The growing popularity of pedal cars paused...
...during the two world wars while the demand for metal precluded their manufacture
All 156 lots came via the James Hull collection owned by JLR Heritage
Close

A nostalgic spin and drift around the park with the radio-controlled Tamiya Porsche 959 you built as a teenager? Irresistible.
Beers, pizza and a riotous evening with your mates and a Scalextric set usually dormant in your loft? Ditto. A 20-minute, leg-pumping workout as you shave tenths off your lap time around the garden in your childhood pedal car? Possibly not, unless you're bashless enough not to mind appearing in A&E with a small metal motor vehicle wrapped irremovably around your legs.
Pedal cars: once a hugely desirable toy for the small and incompletely formed, these four-foot-long, pump- action motors were quite often a pastiche of the car dad drove – or something he was never likely to drive at all, such as a Jaguar E-Type or an F1 racer. Pedal cars have taken many forms, some surprising and some surprisingly detailed. But the trouble with them is that, unlike the simple finger twitching required to control a radio-controlled car or slot racer, it's unlikely you'll be able to relive the pleasure of pre-teen automotive pedal power because you are now too big.
None of which has stopped these machines from becoming collectible. Neither has the inconvenience of their size, which is considerably greater than that of almost every other kind of toy car. For proof, you only have to look at the collection of 156 pedal cars sold at auction last month, the most expensive of which attracted an £8200 winning bid (£9154 with fees), while the cheapest was a deeply tired £50 machine that had lost its bonnet.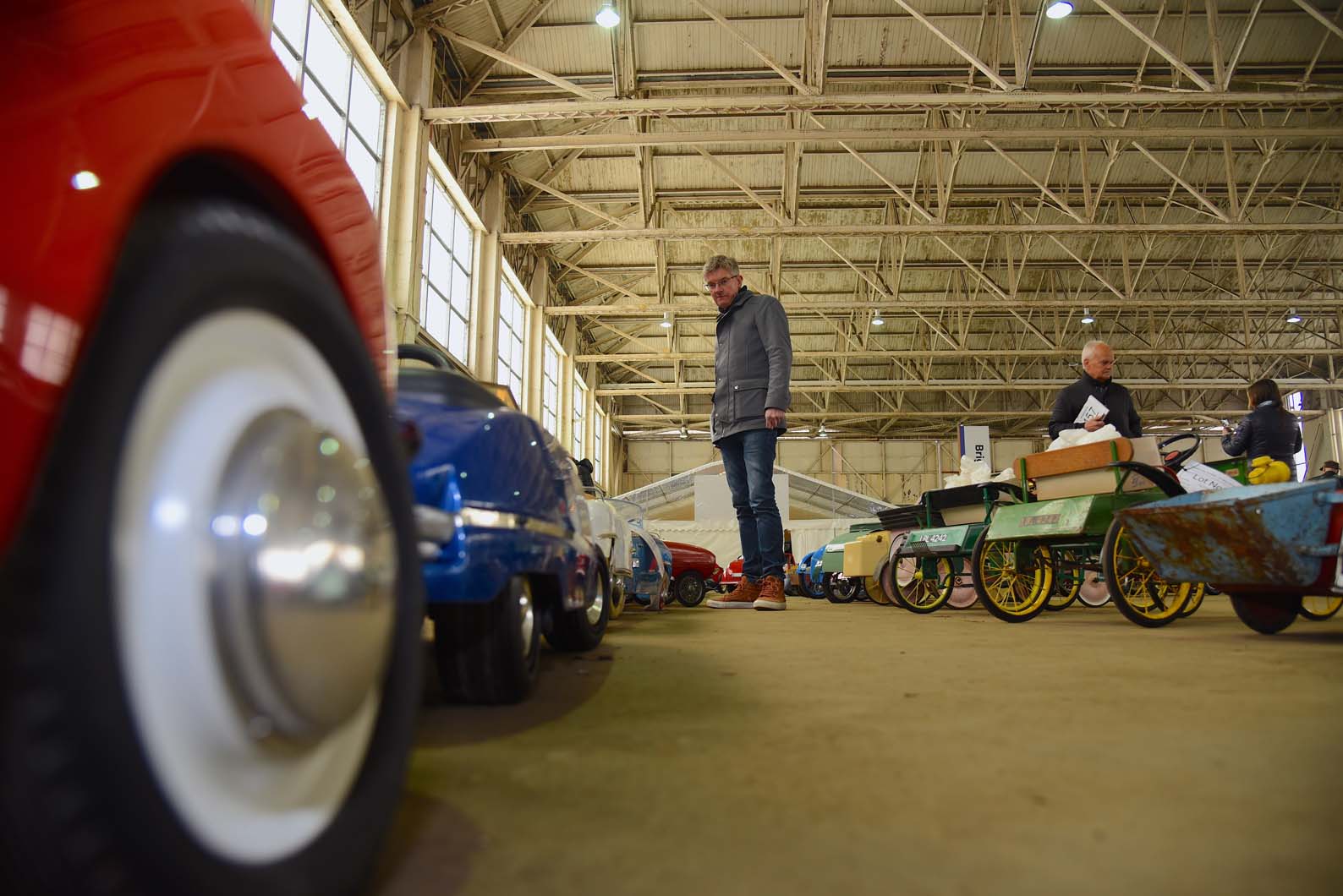 Until 21 March these toys all belonged to Jaguar Land Rover – surely among the odder items the company has owned. The company acquired them in 2014 as part of the 543-strong James Hull car collection, which included a large number of highly desirable Jaguars.
On the same day as the pedal car auction, 110 ex-James Hull JLR cars and camper vans, mostly duplicates, were also sold, with JLR's Heritage division planning to keep quite a number of other-brand models in its now sizeable collection.
So which pedal car scored a £9154 sale? That was a beautiful replica of a 1930s Blower Bentley, complete with model supercharger beneath its mesh-protected headlights. This is a pedal car you wouldn't want to let a child anywhere near, despite the provision of leather flying helmet and an electric motor. The same applies to many of these cars, including a petrol-engined AC Cobra of impressive quality (it went for £5712 with fees), some beautiful pre-war sports cars and grand prix racers and a couple of restored DS Citroëns.
Most of the cars were more mainstream, the vast majority relying on junior feet for propulsion. That sounds like a simple method of travelling from dad's armchair to the bathroom, except that for a small child it's a sizeable test of co-ordination. The child must consistently pump their legs while navigating domestic furnishings, walls, doors, dogs and adult shins if they are to avoid both a Carpet Traffic Accident and the irritation of relatives. Despite these minor drawbacks, though, pedal cars are almost as old as the car itself.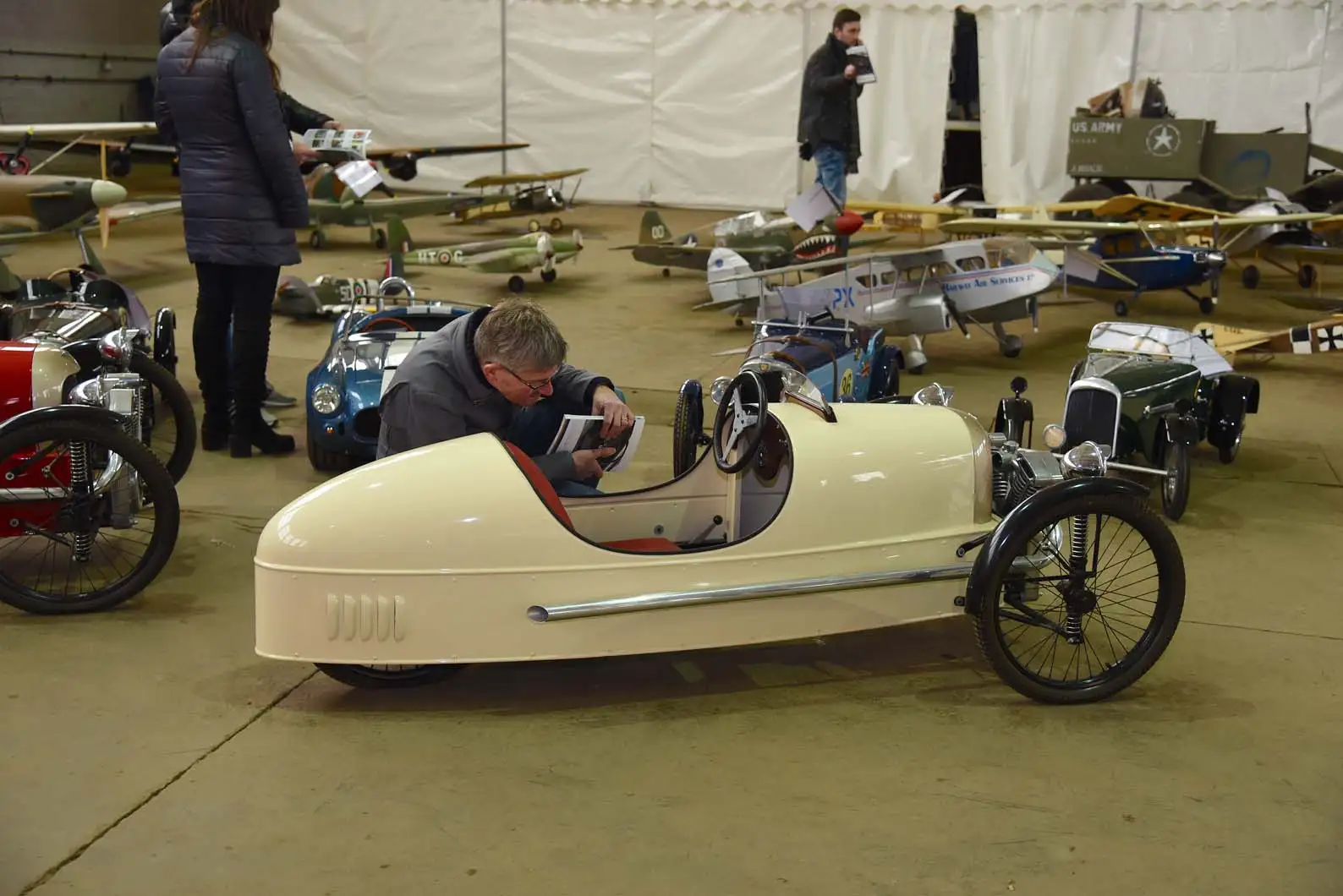 The first appeared in the 1890s and were doubtless considerably more reliable than the full-size cars on which they were modelled. Many were fabricated from pressed steel and featured plenty of detail, making them the rich child's plaything.
The heyday of the metal pedal car lasted half a century, from the 1920s through to the end of the 1960s. In the 1970s they were increasingly made out of plastic (as with so many things of the time), somewhat diminishing the appeal to collectors, many of whom were present for this bonanza of pedal-powered automobilia.
"Pedal cars have a huge following and they always go very well," says Toby Service of Brightwells auctioneers. "It's extraordinary to see so many in one place. I've only seen one collection bigger than this in my 17 years". Also extraordinary was a collection of model planes, many of them radio-controlled and large enough to need the hangar space of a domestic garage. Most spectacular was a huge Hercules bomber, a bargain at £896. Still, all lots found homes, underlining the appeal of machines that their collectors can neither drive nor fly.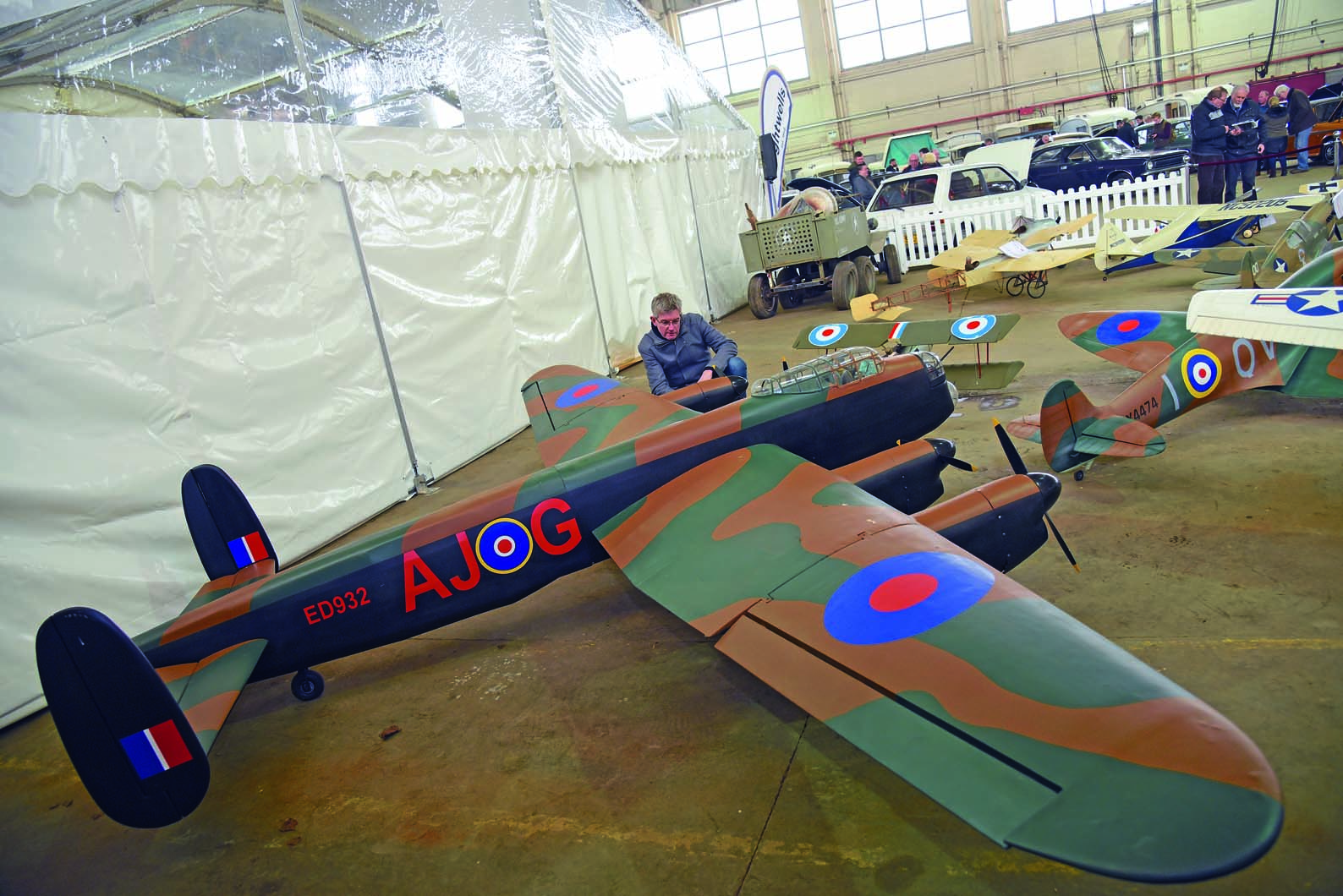 Our highlights: 
TRIUMPH TR3 - £1064
This impressive Triumph is almost big enough for an adult to enter, although battery life (it's electric) would then be further curtailed by the extra weight.
FERRARI-STYLE SPORTS CAR - £5824
Another electric car rather than a pedal-powered one and really beautifully finished despite not being a scale replica of a specific Ferrari.
AVRO LANCASTER B.III - £2016
This magnificent monster, modelled on an aircraft from the 'Dambusters' squadron, is radio controlled. Not surprisingly you need official clearance to fly it, what with its 204in wingspan.
MORGAN 3 WHEELER - £1568
A miniature of the real thing and it's made by Morgan. This beauty is electric powered and the body is crafted from lightweight aluminium.
ARMOURED SCOUT CAR - £418
A home-made pedal car of dramatic silhouette, and almost of a scale to be considered a threat. Based on a ride-on lawnmower, presumably bladeless.
BUGATTI-A-LIKE - £448
Possibly the oldest pedaller present, and wonderfully patinated with it. It even has brakes, in contrast to real period Bugattis, which fell infamously short in this department.
Tweet Widget
Facebook Like
Google Plus One
Nguồn: www.autocar.co.uk