Tweet Widget
Facebook Like
Google Plus One
Our Verdict
Mercedes-Benz E-Class Coupé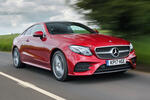 Range-topping version of the new Mercedes-Benz E-Class two-door turns on the style, pace and comfort, but can it overhaul the BMW 6 Series and Porsche Panamera?
First Drive Mercedes-Benz E400 Cabriolet 4Matic AMG Line 2018

The large E-Class Cabriolet receives a splendid 328bhp twin-turbo V6 engine and AMG trim – does that make it a refined choice as an open-top cruiser?
What is it?
Conventional wisdom has it that when buying a convertible you must go for the sweetest, most splendid engine you possibly can.
It's not hard to understand why. Roof down you're going to that much more exposed to its charms – or otherwise – and because such cars champion laid-back luxury you really should have a powerplant of commensurate depth and refinement. Unless you're talking about a carbon-tubbed supercar, convertibles are also heavier than their coupe counterparts, so going with a punchier powerplant is of practical benefit, too.
For the Mercedes-Benz E-Class Cabriolet, that engine is the 2996cc twin-turbo V6 tested here. It crowns a range mainly consisting of turbocharged four-cylinder diesel and petrol options and does so because unlike the more compact C-Class and barge-sized S-Class Cabriolets, with the E-Class there is no Affalterbach-built beast badged 'AMG' to delight in. It's an engine that touts 328bhp and 354lb ft, with the latter arriving usefully early at just 1600rpm.
Going for the E400 obliges you have AMG Line trim (which includes larger wheels, a dotted front grille and more aggressive bumpers and skirts) and 4Matic four-wheel drive. Meanwhile the only gearbox option is Mercedes' 9G-Tronic unit, which we know to be superbly smooth in the coupe.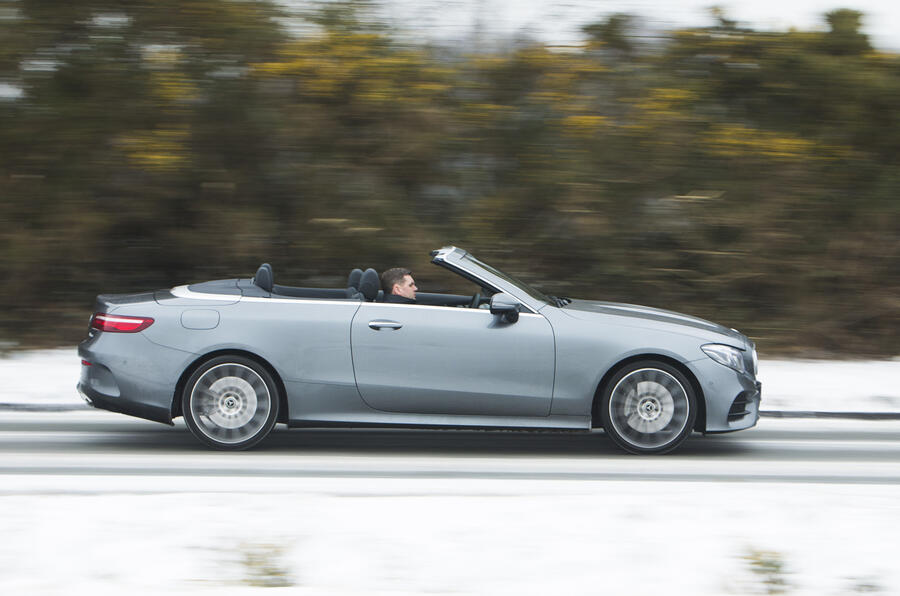 What's it like?
A bit of a behemoth, in truth. This generation of E-Class Cabriolet is longer than its predecessor and nearly 70mm wider of track. Not that the main controls aren't suitably undemanding, it's just that the size of the footprint and weight of the strengthened chassis are palpable from the moment you cast off the E400's moorings and it slips gently into motion.
To get to that stage you'll have swung open a long, immensely heavy door, slid aboard and probably marvelled for a moment at the loveliness of the interior. With the addition of some metal-dipped, roof-related switchgear at the front of the central armrest, it's identical to the tin-top coupe, with an array of crisp digital displays juxtaposed against more conventional sweeps of wood, leather, and some plastic. It's wholly becoming of a big-engined Riviera dandy with a price that'll surpass £60,000 once you've ticked a few options boxes.
And it is a fine engine. With twin-turbocharging comes hearty torque at low engine speeds – ideal for stroking the E400 along with minimal fuss – and yet extend those half-dozen cylinders and you're rewarded with a serrated chorus that's unusually crisp for a forced induction setup. Supposedly, it"ll fire the car to 62mph in 5.5sec, which is up there with the very quick hot hatches. Proceedings never feel quite that frenzied, mind, which we suppose is the intention. Meanwhile the claimed 39.2mpg is a bit ambitious in mixed driving, though you'll manage 35mpg at fast cruise – far from an embarrassing figure. 
The vast fabric top – available in brown, blue, red or black – does a decent enough job of upholding the standards of refinement set by the coupe, though wind noise is unquestionably amplified. It means conversation is no strain unless you're taking advantage of an autobahn, and what might surprise you is that the most intrusive sound on the motorway is that of air crashing into cars you pass by.
Peeling the E-Class open is the work of 20 seconds and brings Mercedes' headrest-mounted 'airscarf' vents into play. They're a godsend on cold days, gently warming the neck. You also have the 'aircap' wind deflector, which pops out of the top of the windscreen frame. It does an excellent job of reducing turbulence in the cabin, but looks a bit awkward and is loud above 60mph.
Does this car ride like a long-legged Mercedes soft-top should? For the most part, yes. However, that the air suspension (standard on AMG Line cars) is tasked with managing an additional 90kg brought about by the weight of the folding roof does tell. At low speeds there's just a little too much intrusion from ruts and bumps, but once up to speed the E400 settles into a magnificently relaxed gait. To this end, we'd stick with the standard 19in wheels.
Don't expect scalpel-sharp dynamics. Body roll is adequately controlled and traction is never a problem given the nature of the driveline, but there's very little communication of what's going on down at the road surface and steering response is ponderous at best. Very few people in the market for this car will care particularly about either trait, of course.
One more thing: if it's between this and the coupe for you, remember also that you lose 65 litres of boot capacity to the roof mechanism.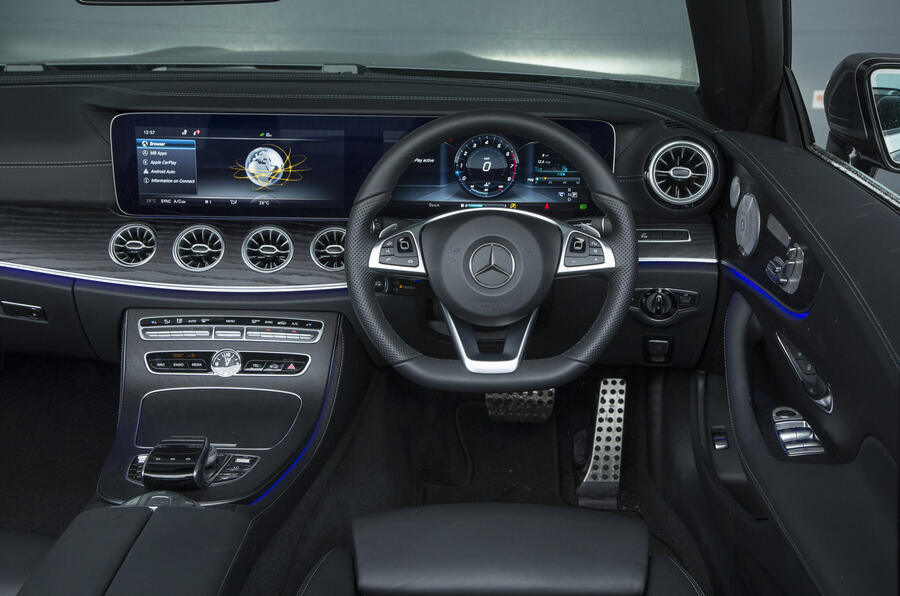 Should I buy one?
BMW's 6 Series Convertible is so long in the tooth that it leaves this powerful, opulent Mercedes drop-top without any authentic rivals.
Audi's S5 Cabriolet is a fraction more agile and quicker, but sharing as it does a platform with the A4, it's noticeably smaller within and, though seemingly infallibly put together, not quite as special.
There's also the four-cylinder E300, which isn't much slower but costs ten grand less than the range-topper. Pity, then, that it's a lacking a little in refinement at this level. 
Mercedes-Benz E400 Cabriolet 4Matic AMG Line
Where Surrey On sale Now Price £55,715 Engine 6 cyls, 2996cc, twin-turbo, petrol Power 328bhp at 5250-6000rpm Torque 354lb ft at 1600-4000rpm Gearbox 9-spd auto Kerb weight 1935kg Top speed 155mph 0-62mph 5.5sec Fuel economy 32.8mpg CO2 rating 194g/km Rivals Audi S5 Cabriolet, BMW 640i M Sport Convertible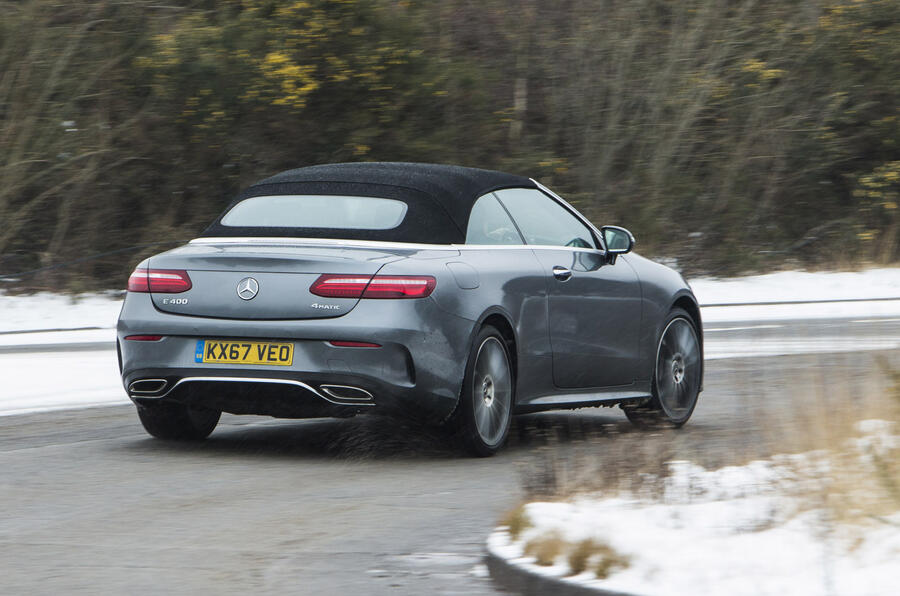 Tweet Widget
Facebook Like
Google Plus One
Nguồn: www.autocar.co.uk