Tweet Widget
Facebook Like
Google Plus One
Our Verdict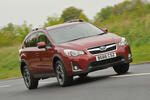 The Subaru XV is a no-nonsense crossover that doesn't quite make enough sense on the road to trouble the likes of the Nissan Qashqai and the Seat Ateca
First Drive Subaru XV 2.0i SE Premium Lineartronic 2018 review

Rugged Subaru XV enhances its appeal with new safety features and a smarter cabin design, but does it make it more appealing to buy?

First Drive Subaru XV 2.0 SE Premium 2018 review

Second-generation XV sits on a new platform and is safer and more refined than before, but it suffers from the same problems that plagued its predecessor

What is it?
Subaru's rugged XV crossover returns for 2018 with plenty of promise. Built on all-new Subaru Global Platform underpinnings, it comes packed with safety technology and a five-star Euro NCAP rating that ranks it, in terms of passenger protection, top of the compact family car class.
It also retains core USPs of its predecessor including proper permanent all-wheel drive and 220mm ground clearance, ensuring it remains a hardier option than segment alternatives like the Seat Ateca and Nissan Qashqai.
But the new car has lost a diesel option and so comes available exclusively with petrol power and a CVT gearbox – which is quite the contrast to the class norm for vast powertrain line-ups and something that you might expect to hamper its chances of making a mark in such a congested segment.
The thing is, Subaru's not concerned with taking on mainstream models such as the Ateca, but rather, more interested in growing its faithful customer base so that it achieves a targeted 3500 sales overall in 2018. It expects the XV to account for about a third of that, so the real question is, will it be able to draw in new buyers, or is it destined to remain a car for Subaru's loyal but small customer base?
What's it like?
There's no denying the XV looks more purposeful than conventional compact SUVs thanks to the way it appears to be standing on its tippy-toes. The car's 18in wheels are surrounded by thick arch gaps and its underside clears the ground with an extra 38mm compared to the Seat Ateca. But the car's nose is longer and sleeker than most off-roaders, thanks in part to the low-set boxer engine beneath it, so it doesn't look cumbersome.
Slip inside and the car trades the exterior's hardy theme for a more premium look. The new XV's dashboard and centre console feature a much cleaner, more modern design than the old car, with a standard-fit 8.0in infotainment system featuring Apple Carplay and Android Auto taking centre stage. The layout remains functional with big buttons, but there's clearly been a concerted effort to boost the car's design appeal here.
Our car comes with the 2.0-litre flat-four Subaru expects to be the car's best selling powertrain, but a smaller 1.6-litre boxer is also available. The 1.6-litre engine is new, while the 2.0-litre is a heavily reworked version of the previous XV's unit.
On the move, the engine is noticeably smoother and quieter, and it also comes with stronger mid-range grunt to prevent the Lineartronic CVT gearbox – which is the only one of its kind adapted for an all-wheel drive car, by the way – from demanding too many revs. But with 145lb ft and 154bhp on offer, powering hard for an overtake or to enter a motorway will still send the engine revs skywards. Turbocharged rivals pack a fair but more mid-range punch.
The Lineartronic 'box has been tuned with steps to simulate seven gear changes, but it's still very obviously a continuous transmission and therefore best left to its own devices, rather than being operated with the paddle-shift levers on the steering wheel.
Despite the car's high-set stance, clever packaging in the car's new underpinnings and the low placement of its boxer engine mean centre of gravity is low. As such, the car steers and pitches like a car that's set much closer to the tarmac, while riding well over ridged and cracked country roads. Its steering is void of feel but nicely weighted, making the car feel secure and confident on sodden country passes – where XVs are likely to spend much of their time. However, the 18in wheels fitted as standard on this model create a substantial amount of road noise that penetrates into the cabin. On the black stuff, the XV is good, but not excellent.
Venture off-road and the XV suddenly makes a lot more sense. A new X Drive mode enhances its all-wheel drive system to maximise traction at each corner with independent torque control. It's extremely effective and makes light work of the rainstorm saturated mud fields we crossed, placing it a league above its class rivals that are less effective at continuously juggling torque to each wheel. The system features a hill descent control which allows you to hand over throttle and brake application to the car, requiring just steering input from the driver. Turn off the car's stability control and the all-wheel drive crossover can be driven in the manner people expect Subarus to be driven off-road…
That is one of the car's two main selling points. The second will appeal to a wider number of buyers, because it's focused on safety. The brand spokesman has openly said they were inspired by Volvo's 'safe' image, and the new XV's underpinnings have enabled it to flaunt a similar list of accident preventing or reducing systems to the Swedish car maker's models.
We tested Subaru's Eyesight technology, which uses a camera that can see 110 metres ahead mounted high on the car's windscreen, and it proved genuinely effective at preventing a rear end impact with a closing speed of almost 30mph. Also impressive is the car's side rear impact prevention system, which scans seven metres of the road behind when reverse is engaged and beeps loudly when a car is approaching from either side. The reverse camera also offers a wider view than most rivals.
Should I buy one?
Clearly, the Subaru's success is stunted by its limited powertrain line-up. A hybrid version is due next year, but a lack of turbocharged petrol and diesel variants will no doubt limit the car's appeal – especially to those who tow caravans or trailers.
But the XV will appeal greatly to people who live in areas often faced with adverse weather conditions or outgoing types who venture off roading in all seasons. Its genuine off-road ability, secure and safe setup and hardy character mean it remains a unique offering in the compact crossover segment like its predecessor. Thankfully this time, it also comes with a bit more polish.
Subaru XV 2.0i SE Premium Lineartronic
Location Wiltshire, UK Price £28,495; On sale February Engine 4cyl, 1995cc petrol Power 154bhp at 3600rpm Torque 145lb ft at 4000rpm Gearbox CVT Kerb weight 1439kg 0-62mph 10.4sec Top speed 120mph (est) Economy 40.9mpg CO2 155g/km Rivals Nissan Qashqai, Seat Ateca, BMW X1
Tweet Widget
Facebook Like
Google Plus One
Nguồn: www.autocar.co.uk