Tweet Widget
Facebook Like
Google Plus One
Our Verdict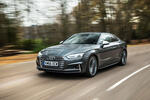 Audi's second-fiddle sports coupé moves to a turbo V6
First Drive Audi S5 Cabriolet long-term review

Sporty, handsome and powerful all describe the Audi S5 Cabriolet aptly, but what is it like to live with day-to-day? We found out over five months

First Drive 2017 Audi S5 Sportback UK review

The Audi S5 Sportback is more bruising GT than practical sports car, but it makes sense for those wanting a fast executive saloon in coupé get-up

Why we ran it: To see if the fast A5 is as fun to drive every day as it is handsome and plush
Month 1 - Month 2 - Month 3 - Month 4 - Month 5 - Costs and specs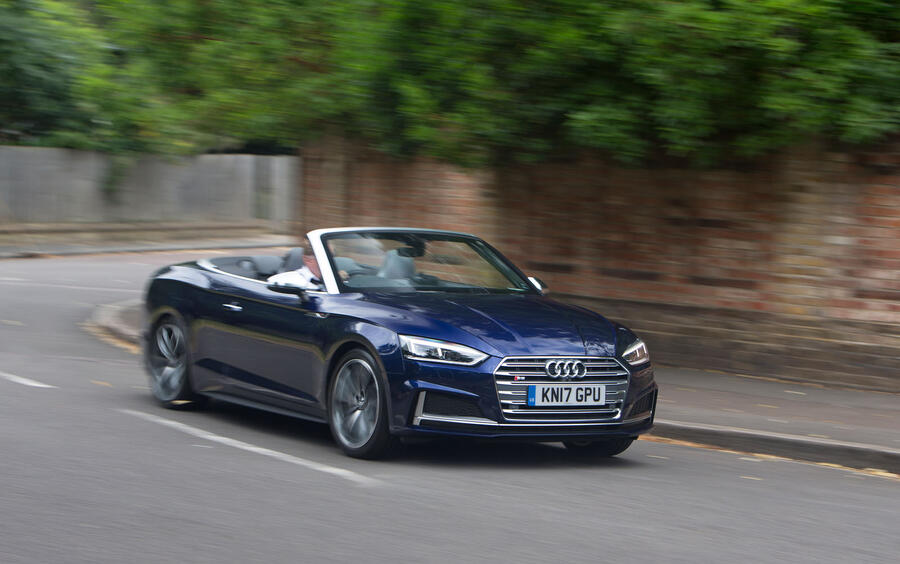 ​
Life with a S5 Cabriolet: Month 5
Saying goodbye to the S5 Cabriolet – 17 January 2018
It arrived on the first day of decent weather last year, and departed just as winter started doing its worst, which is just about the perfect ownership timetable for a car with a convertible top.
This is not to say the fabric roof of my spring-summer-autumn transport – a gleaming, full-spec Audi S5 Cabriolet in rich Navarra Blue – ever did anything so low-rent as to leak air or water in bad weather.
In its closed condition, the S5's rag-top behaved so similarly to a coupé's fixed roof – including cruising almost as quietly as a tin-top on motorways – that it never came across as a weakness.
My point is simply that any car whose cockpit can be opened to sun and stars is never at its best in a British winter.
From the first, our S5 cabrio was a mile-eater. As a breed, Audi's S models have a reputation for being fast, powerful and undemanding to operate, and these characteristics were immediately shown particularly to suit a biggish, heavyish 4.7m-long 2+2 convertible.
In our rag-top, you tended to cruise smaller roads top down, rather than rushing them as you might do in the coupé.
Many's the time I'd gather most of a long journey's miles on the motorway, then take to small roads, top down, for the final 50, enjoying the smells and the swirl of the open air. It might sound fairly slow, but it felt special and it was fun.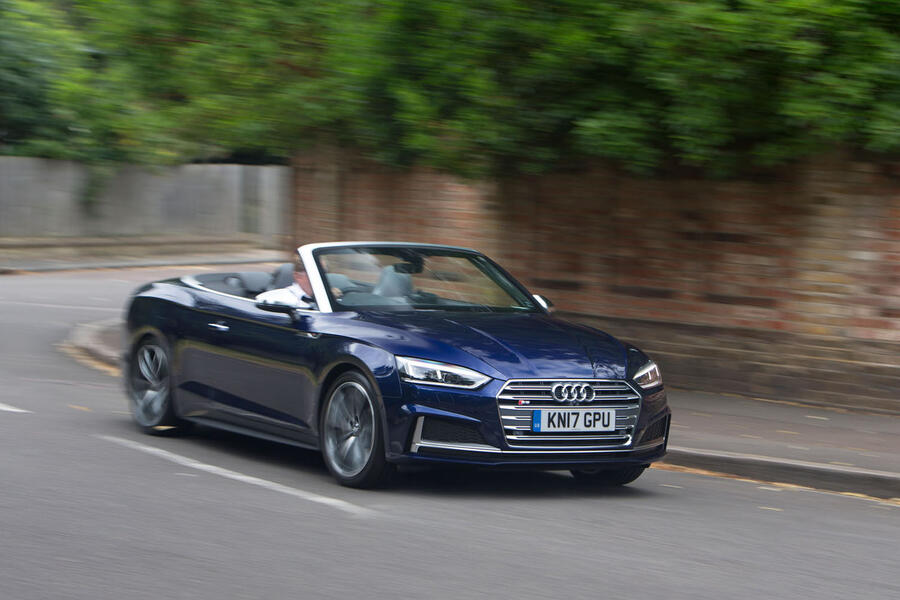 Abundant power and torque are important components in the S5's supreme usability.
The 349bhp and 369lb ft outputs of the 3.0-litre turbo V6 make progress effortless, especially when deployed through an eight-speed paddle-shift gearbox with a perfect ratio for every occasion. At any velocity or crankshaft speed, this car feels ready to go.
As a result, the S5 cabrio's unfashionably high kerb weight of 1840kg (225kg more than the already porky coupé) matters very little except to combined fuel consumption (35.3mpg) and CO2 (181g/km).
That translates to real-word thirst of between 22mpg and 32mpg, with around 26mpg as a running lifetime average – better than the old pre-2013 V8 figure for the S5 of 23-24mpg, but nothing special.
Another big S5 plus was the spec. Any S5 comes well equipped, but we added a mechanical locking rear diff, a slightly tougher S suspension pack and a £750 B&O audio upgrade.
The £1350 we were charged for an 'advanced parking assistance' system seemed excessive, although I'd definitely need the parking sensors and the crystal-clear rear camera that were included.
We could have effortlessly saved £2000 in our car's total cost of £61,190 by leaving out the smoking pack, the £300 wind deflector (hate them; never used it) and the £950 Dynamic steering, which sets out to please drivers of all statures and abilities by smoothing the effort needed at varying speeds and cornering loads but ends up feeling very artificial.
We bang on a lot about Audi quality, but in the S5's case, it is justified: in 13,800 miles over nine months, in the hands of seven or eight drivers, nothing altered about this car's condition (leaving aside one cataclysmic incident I'll come to).
If the driver's floor mat looked a bit threadbare, you could restore it by buffing it up a bit. The paint was lustrous and never marked. The leather upholstery's edges remained pristine. The engine only ever seemed to get sweeter.
Towards the end of our time with the car, I hit a deer while driving on a rural road in Gloucestershire, thankfully only at about 40mph. The animal was killed instantly and thrown off the road, and the car's frontal plastics were comprehensively rearranged, although the airbags didn't go off and the poor old deceased quadruped didn't come over the top and land in my wife's lap, as for a fleeting instant I thought it might have done.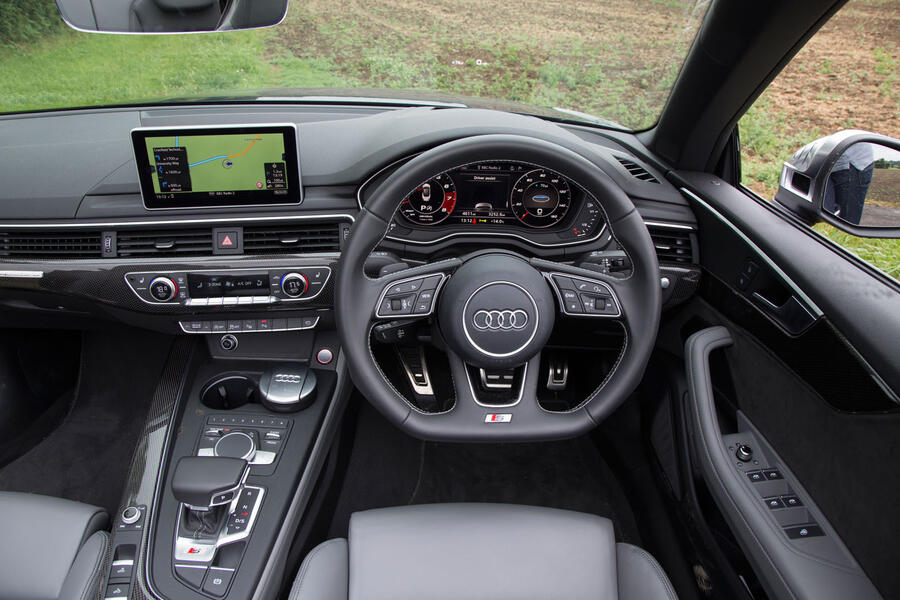 It was a traumatic experience that put the S5 out of action for a month while a frontal repair and repaint costing "several thousands of pounds" (according to Audi's press garage) was carried out.
When the car came back, looking pristine, we had no more than a few weeks to reflect on what the S5 had done for us.
One thing: we hardly ever used the rear seats, which are very short on leg room for a 4.7m car. That made me wonder whether, for the determined Audi cabrio buyer, an S3 might not be a better bet, what with its extra agility, lower weight and lower cost yet equal poke and quality.
However, contact with other S5 Cabriolet owners made it clear that buyers' motivations are more complex than that: many people simply liked the size and more graceful lines of the S5; others (fleet user-choosers) went shopping for £50,000 convertibles, and weren't attracted by anything cheaper.
In summary, this is a very good car. The S5 isn't perfect from the driving buzz point of view, but it's as fast and well equipped and well built as buyers can reasonably expect at the price. Those choosing a big convertible for a long life could hardly do better.
Second opinion
I could never quite get my head around the S5 cabrio.
It was the 'S' part of its name that bugged me most. It was lovely to look at and sit in yet offered none of the dynamic flair its badge suggested.
You could get just as much enjoyment out of the entry-level A5 drop-top, I'd bet.
Mark Tisshaw
Mileage: 14,878
Love it
Classy styling - S5 is no long-lasting classic, but most people know instantly it's an Audi and admire its sleek lines.
Effortless performance - Combination of wide-spread turbo power and a quick-acting eight-speed auto make response rapid.
Build quality - Lustrous paint and fine panel fit are Audi 'givens' but the S5 feels as though it'll live a long life, too.
Loathe it
Cramped rear - Never found anyone to fit the S5's contortionists' rear seats. Would an S3 cabrio make more sense?
Steering - Okay, the S5's steering isn't actually bad but others in the patch are far better for feel and driver enjoyment.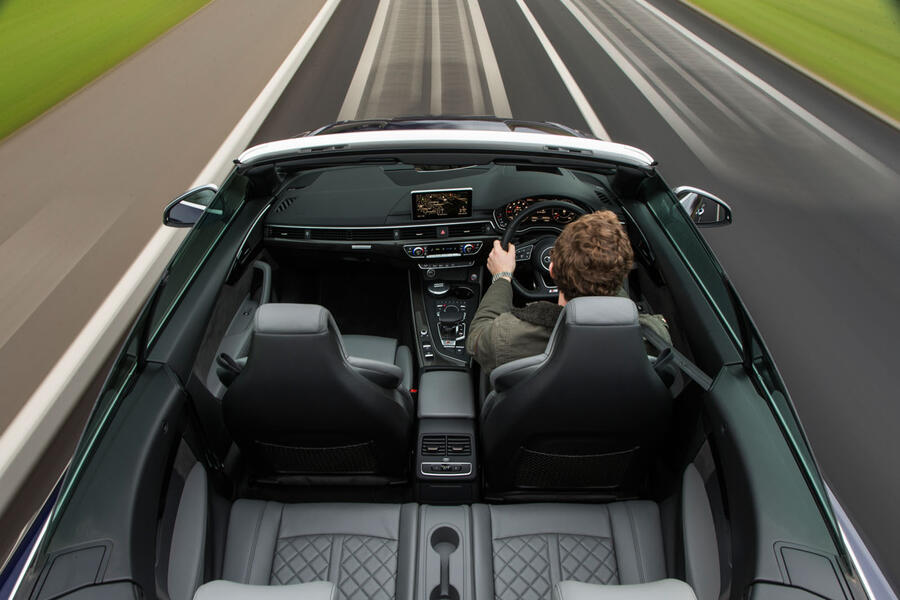 Back to the top
Life with a S5 Cabriolet: Month 4
Persevering with the S5's roof down – 29 November 2017​ ​
Last month I made a pact with myself to continue with frequent open-top travel this side of freezing point, but the comfortable threshold turns out to be 6-7deg C.
Still, the hood, erected, isn't noisy and never leaks or flaps. It doesn't even let in much outside noise. It just acts like a coupé roof with extra versatility.
Exactly what you want.
Mileage: 12,856
Back to the top
Life with a S5 Cabriolet: Month 3
Staying warm while looking cool in the S5 – 25 October 2017 ​
The arrival of autumn is a reminder of how cold cabrios can get when the weather turns.
I've been finding this out in the Audi S5, and discovering at the same time the usefulness of the rear windbreak, which I was previously rude about.
With it in place, you can cope in cold weather with the top down, so I like it now. Wish it looked better, though.
Mileage: 9797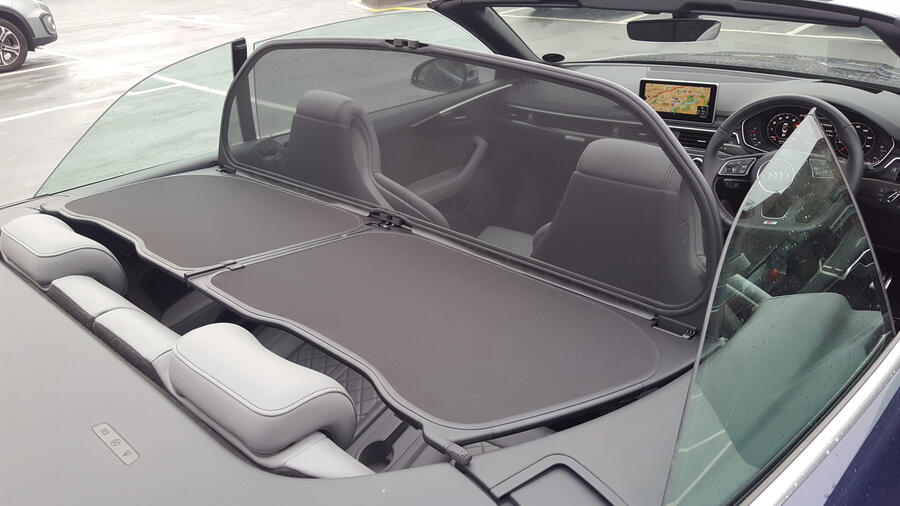 Back to the top
Life with a S5 Cabriolet: Month 2
Healing the S5 Cabriolet's battle scars – 20 September 2017
The Audi came into sharp contact with a deer a couple of weeks ago, as you might have heard.
Killed the animal, sadly, and mangled the S5's frontal plastics, but at least the airbags didn't go off.
Audi's phone recovery service was prompt and immaculate: the car was collected within couple of hours and now its repair is largely complete. We're looking forward to its return.
Mileage: 6270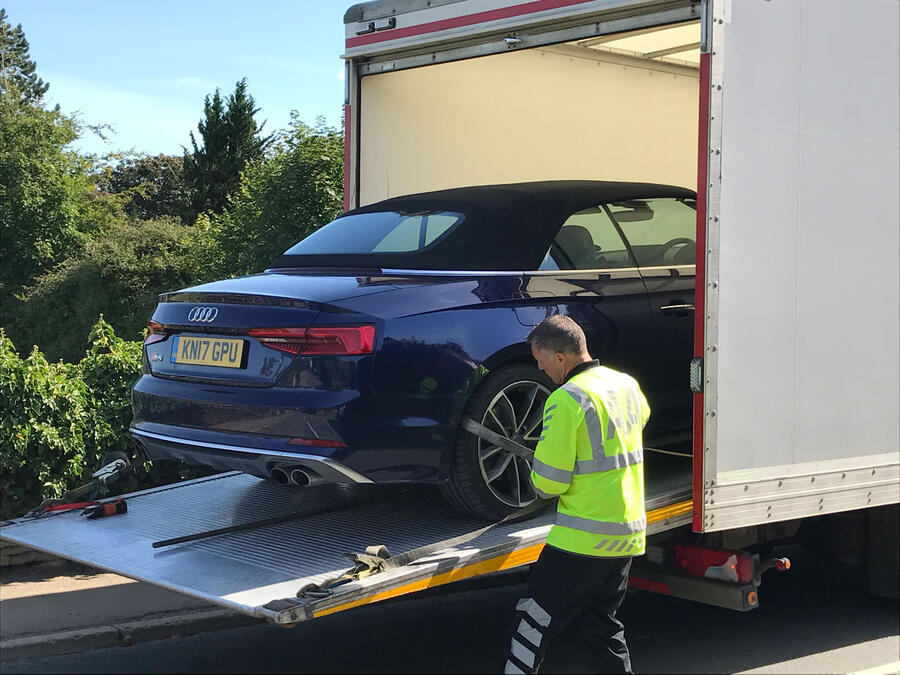 Fine-tuning the S5 Cabriolet configuration – 23 August 2017​
It has taken a while, but I've finally got to grips with the configurable driving controls essential to full enjoyment of any Audi S5, and especially the cabrio, which is unusually satisfying at both extremes of its performance.
Often in the cabrio, in the same half day, you'll first need to cruise a motorway, top up to cut wind rush and other people's tyre noise while the engine pulls fuel-saving low revs in eighth gear.
If you're lucky, your journey will take you to a place where you can glide quietly along country roads with the top down, enjoying rural sights, smells and vistas before maybe finishing the day with a sprint on favourite roads – for which you need full access to the 3.0-litre turbo V6's 349bhp, via a transmission now configured so that it both sharpens throttle responses and isn't nearly as keen on finding eighth gear for delivering maximum economy.
The transmission part is easy: pull the lever backwards and you'll get Sport, which will either let you change manually on the shift paddles or give you an auto regime that ensures that the engine is nearly always operating between maximum torque and maximum power, with the smooth bark from the S5's impressively purposeful quad exhausts curling up to your ears across the car's rear deck.
But it's how you use the Drive Select control, awkwardly located a stretch away on a little panel just above the centre console, that makes an even bigger difference.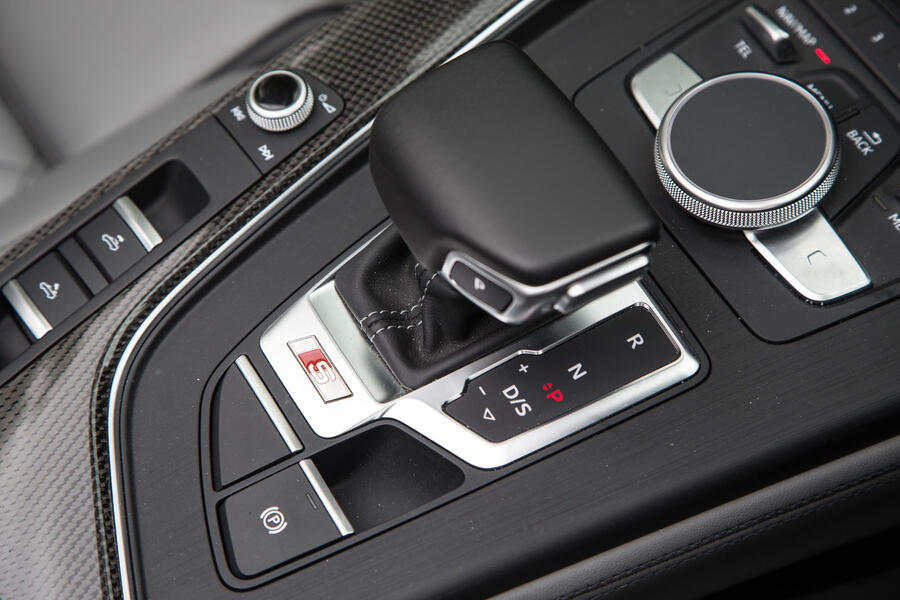 Press it, and you'll be offered a chance to select Comfort, Auto or Dynamic settings for the engine and gearbox, the suspension (magnetic shocks), the electric power steering, the rear diff (which tames wheelspin and dispenses torque vectoring) and the engine sound.
You'll soon tire of changing these settings all the time, especially since the switch stays live for only four seconds, which is too short a time if (like me) you are not especially dextrous.
The solution is to decide your own settings for these five functions and then freeze them under the Individual selection.
If you care about such minutiae – and you will once you get to know the car – it takes time to reach an ideal. Mine is engine set to Dynamic, suspension to Auto (which assesses road surface action and makes its own decision), steering to Dynamic, diff to Auto and engine sound to Dynamic.
My result is a sporty but fairly subdued engine, a quickened throttle response, firm steering that suits the system's quick gearing and a diff that does as much as it can to keep me on line when powering energetically out of corners. So far, I'm really pleased with the car, which couldn't be better summer transport.
Interestingly, Mr Editor Tisshaw, who has also done quite a few miles in this car, prefers Normal for steering and powertrain, saying that the car feels rather snatchy and 'digital' with the settings I prefer.
He's fresh from an M-Sport BMW 3 Series that, he reckons, followed a driver's desires more naturally. I'm not arguing: the main thing is that the Audi can accommodate us both.
Those who meet the S5 for the first time wonder if it needs to be so big, ignoring the fact that you can buy an S3 cabrio if compactness is your priority. But I'm enjoying our car's character as a generously proportioned (fast or slow) cruiser. Hope the summer lasts.
Mileage: 6235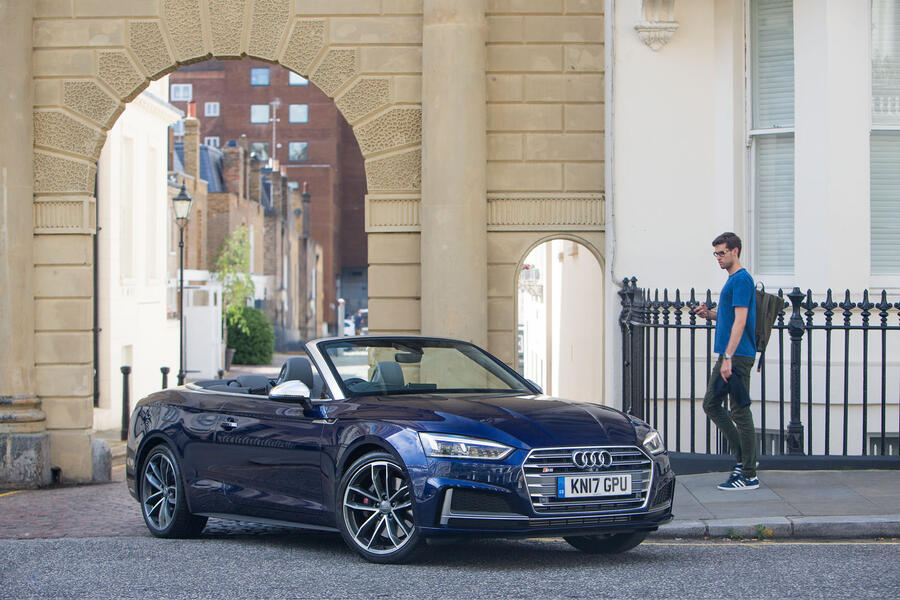 Back to the top
Life with a S5 Cabriolet: Month 1
Welcoming the S5 Cabriolet to our fleet – 26 July 2017
I've never had an Audi before. Nothing sinister about that; just that other people here got up earlier, which says something about the fundamental desirability of the marque in all its guises.
However, when the idea of being the de facto owner of the Audi S5 Cabriolet came up, I have to confess I was excited.
Of course, I already knew drop-top S5s were handsome, sporty and powerful, but this recently revised, slightly larger model's combination of an all-new 349bhp 3.0-litre turbo petrol V6, a nice, controllable eight-speed ZF paddle shift auto, and Audi's latest infotainment system was enticing, to say the least.
The arrival of decent summer weather at about the same time as our car was a bonus.
Choosing the car's spec was as challenging as ever for someone configuring a £50,000 Audi. Any S5 comes well equipped, but we paused before we chose the handsome and rich Navarra Blue as the exterior colour (too dark for the summer?) and the grey quilted leather interior (too urban for this country dweller?). But good decisions, as it turns out.
The £1200 quattro system with sports differential chose itself: who'd deny himself class-best traction with a bit of torque vectoring chucked in? Ditto the £900 S suspension and adjustable dampers, which, I'm already finding, allow the car to be configured ideally for a wider-than-normal variety of British roads.
I have to admit I jibbed a bit at £1350 for advanced parking assistance. I doubt if I'll ever use the self-parking, but I do regard front and rear sensors as essentials, and you also get a superbly clear reversing camera. I love head-up displays, even at £900, and I knew the £750 Bang & Olufsen audio system and £325 phone paraphernalia would help make journeys shorter. Folding mirrors make sense, and I happen to like flat-bottomed steering wheels.
Stuff I wish I'd left out? The £50 Smoking Pack is obvious, plus the £300 wind deflector (which is a dream destroyer to me, much like mudflaps). Besides, I've already proved that in open guise the cabin is largely free from buffeting.
I'd also consider losing the £950 Dynamic steering (systems that go finger light at parking speeds feel horribly imprecise) and could live without the £425 carbonfibre inlays in the cabin.
Last thing: I feel surprisingly resentful about being stung an extra £175 for a Storage Pack, especially when you look at what it comprises: nets on the front seat backrests, a compartment under the front seats, a lockable glovebox and a cupholder in the rear centre armrest. Surely, in a car costing £51,835 basic – and £60,880 with options – this can be taken for granted, can't it? I know in today's PCP deals such things hardly make a quid-a-month difference, but it's the principle…
And the driving? I've put 4000 miles under this car's wheels in four weeks. In the Autocar environment, cars that accumulate big miles tend to offer the best combination of good times and ease of use – and the S5 Cabriolet delivers on both counts. I have to admit, I paused over our test team's 'not quite brilliant' verdict on a new-spec S5 Coupé, but their verdict was delivered against a background of harder-edged Mercedes-AMG and BMW tarmac-chompers, whereas this car is definitely a cruiser.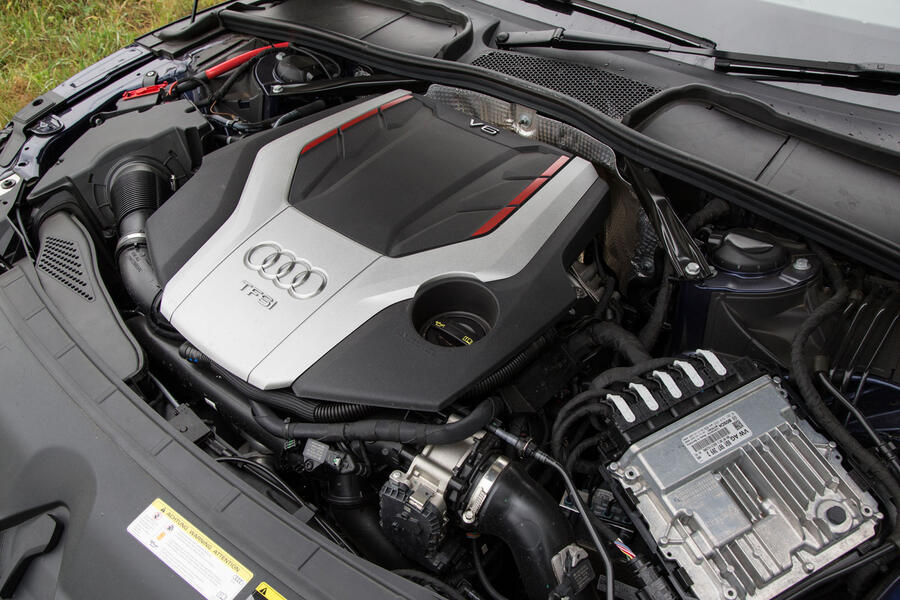 It's a quick cruiser, mind. Audi claims 5.1sec for the 0-62mph sprint. Plant it, and the car erupts; its acceleration all the better because the permanent four-wheel drive system allows no wheelspin at all in the dry, and only a chirrup in the wet.
But you rarely drive it like that. This is either a brisk or a leisurely cruiser. Pleasures include the smooth rasp of the exhaust, curling up to your ear over the rear deck from the impressive quad exhausts.
The engine, which delivers maximum torque (369lb ft) from 1400rpm, is the soul of docility – even if it can also produce a decent yowl and plenty of thrust near the 6500rpm redline.
I had two concerns about running a convertible: one, that the motorway cruising noise level would make life hard; two, that the S5 cabrio would lack the body rigidity of space-framed sports cars I've owned, and of the admirably stiff Mazda MX-5 I have now. I've now been far enough, fast enough to know neither issue matters. The multi-skin rag-top Audi is as quiet as a coupé when cruising and also feels comfortably rigid over bumps. Such stiffness might have something to do with a kerb weight nearing two tonnes.
Despite the avoirdupois, the S5 cabrio feels nimble when you lean on it. The steering is nicely weighted, but not exactly special in a class full of superb contenders. But pitch it fast into bends, thinking it'll understeer, and it just doesn't, mainly because there's plenty of 255/35 R19 rubber on the road, and because of the torque vectoring.
It completes the second half of bends neatly indeed, flattering your driving and emerging exactly on line. The ride, depending which of four driving modes you choose, varies from rock-hard jittery to quite soft and pitchy on rough suburban streets – just the kind of spectrum of adjustment you need. I usually choose second softest.
This is a capable and accomplished car, especially for the use we've so far put it to. We might find something different when the weather turns bad, but somehow I doubt it.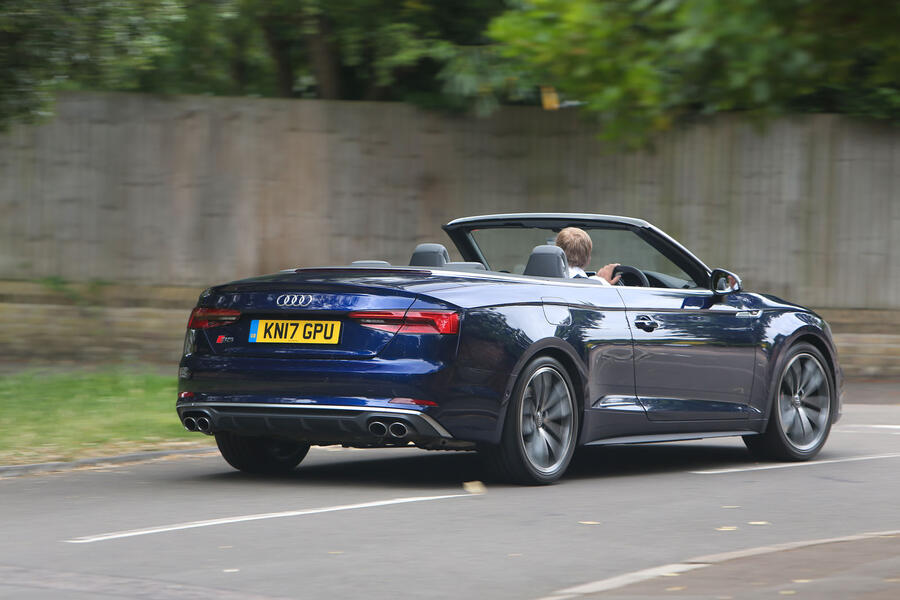 Audi S5 Cabriolet 3.0 TFSI quattro specification
Pricing: List price new £50,350; List price now £52,510; Price as tested £61,190; Dealer value now £39,004; Private value now £34,670; Trade value now £33,545; Options Navarra Blue paint (£645), Quattro with sports differential (£1200), head-up display (£900), Parking Assistance Pack Advanced – includes Audi Pre-sense, 360-degree camera, park assist, side assist, cross-traffic assist, exit warning (£1350), Storage Pack – includes storage netting, under seat storage, lockable glovebox, rear cupholders (£175), Dynamic steering (£950), S suspension (£900), flat-bottomed steering wheel (£100), carbon inlays (£425), heated folding door mirrors (£225), wind deflector (£300), Smoking Pack (£50), Light and Vision Pack – includes Audi Virtual Cockpit, extended LED interior lighting, matrix LED headlights, dynamic front and rear indicators (£750), Bang & Olufsen audio (£750), phone box (£325)
Specs: Engine 2995cc, V6, turbocharged petrol; Power 349bhp at 5400-6400rpm; Torque 369lb ft at 1370-4500rpm; Kerb weight 1840kg; Gearbox 8-spd automatic; Boot space 360 litres; Wheels 9.0Jx19in, alloy; Tyres 255/35 R 19; Top speed 155mph; 0-62mph 5.1sec; Claimed fuel economy 35.3mpg; CO2 181g/km
Costs: Mileage at start 996; Mileage at end 14,878; Fuel tank 58 litres; Test average 26.2mpg; Test best/worst 33.2mpg/13.6mpg; Real-world range 300 miles; Contract hire rate £520.31pcm; Expenses Insurance repair; Fuel costs £2845; Running costs including fuel £2845; Cost per mile 20.55 pence; Depreciation £27,645; Cost per mile including depreciation £2.19; Faults None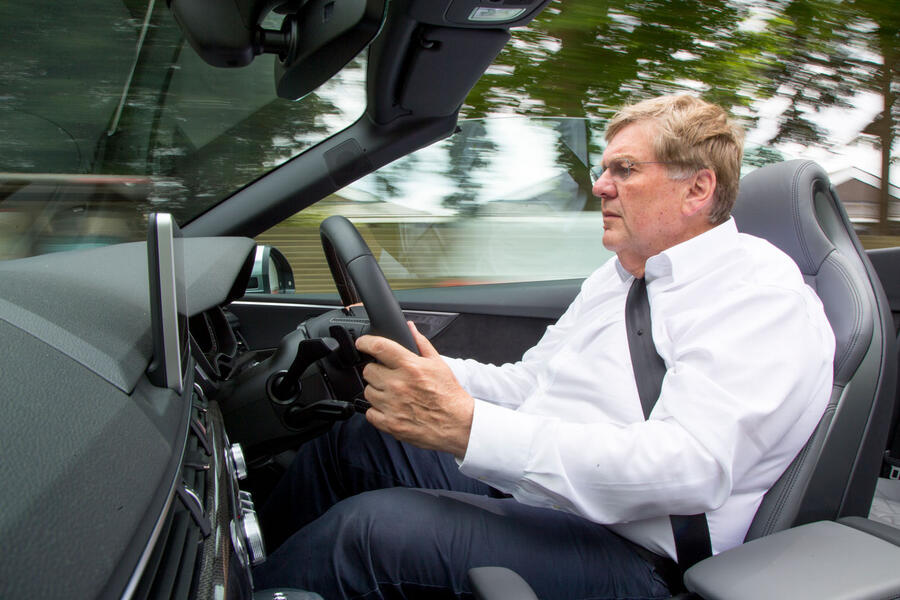 Back to the top
Tweet Widget
Facebook Like
Google Plus One
Nguồn: www.autocar.co.uk