Tweet Widget
Facebook Like
Google Plus One
What is it?
This is the first petrol-engined version of the second generation Audi A7 Sportsback, which represents Audi's latest attempt to topple the Mercedes-Benz CLS for honours in the tricky luxury grand touring coupe market.
Sharing the latest evolution of Audi's MLB platform with the forthcoming A6 due later this year, the grand tourer is 5mm shorter than the previous model, albeit with a wheelbase that is 12mm longer.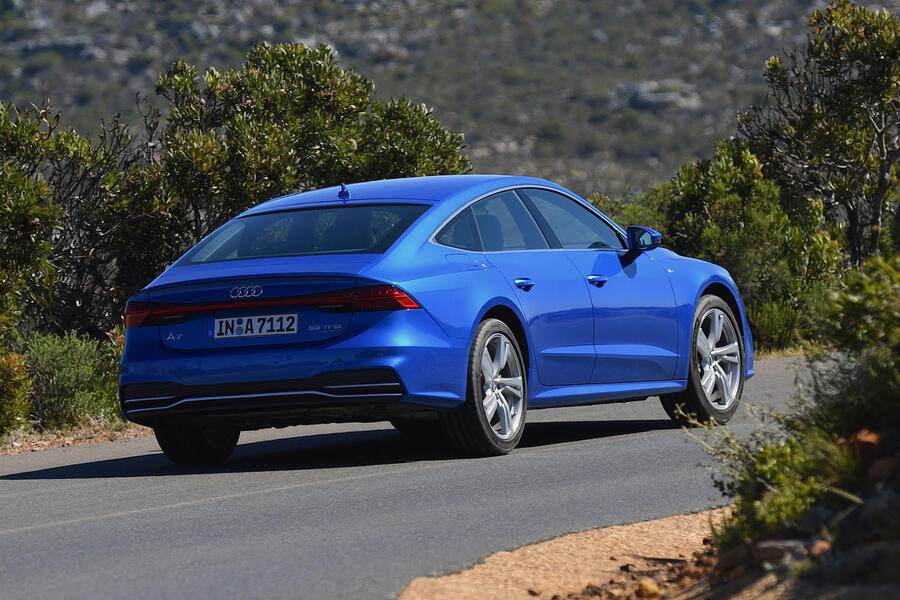 While the 50 TDI we've also reviewed is expected to be the bigger seller of the two early engine options, the 55 TFSI seen here will be the first to go on sale (with the diesel following quickly after). As fans of Audi's recently introduced new model naming system will know, the 55 designation indicates that car's powertrain produces between 328 and 468bhp. In the case of this car we're talking 354bhp, from a 3.0-litre turbocharged V6. As with the diesel, the engine (previously seen on the new A8) is complemented by a 48-volt belt alternator starter mild hybrid system, which can recover up to 12kW of energy (enough for 16bhp) when braking or coasting (it will automatically disengage the engine when coasting at speeds between 34 and 99mph).
The powertrain, which uses a 7-speed S tronic automatic gearbox, produces 369lb ft of torque at 1370-4500rpm. The engine also features a multi-plate clutch in place of a limited slip differential, and runs in two-wheel drive during standard running, switching on when the car's various high-tech sensors and systems detect it's necessary – or going to be necessary.
What's it like?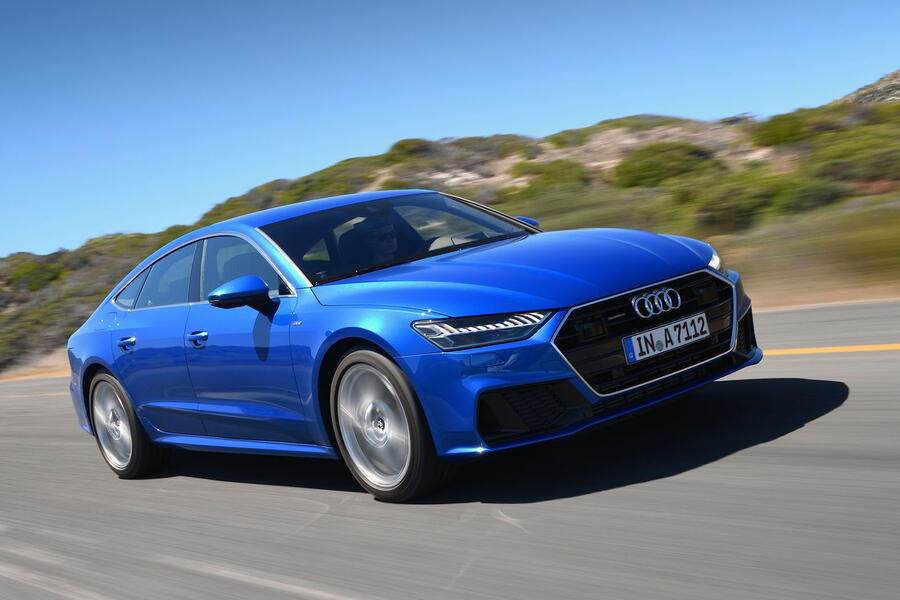 The new A7 Sportback has had a makeover to follow Audi's new design language – it's sleek and attractive, if not a revolutionary departure from what went before. Our test car came in top-level S line trim, which adds to special front and rear bumpers, side skirts and a few S line logos. It also adds HD Matrix LED headlights at the front, and 'dynamic' LED rear lights that run across the length of the boot.
Inside, the dashboard is dominated by the twin touchscreen MMI system – featuring 10.1in and 8.6in displays – and the 12.3in Virtual Cockpit digital instrument display. On top of the features covered in our review of the 50 TDI sport model here, S line trim interiors feature leather and Alcantara-covered sports seats.
The A7 Sportback takes much of the technology recently introduced on the flagship A8, including a raft of driver assistance features. And, as is customary with Audi, the optional equipment kit is extensive. Some of those fitted to our test car included the Bang & Olufsen 3D Advanced Sound System, a smartphone interface, phone charging box and a night vision display.
S line trim also features sport suspension (10mm lower than standard) and 20in wheels (the lower sport trim has 19in as standard), although our test car was also fitted with adaptive air suspension and 21in wheels.
It also came with Audi's four-wheel-steering system, engineered to turn the rear wheels in the opposite direction as the front as low speeds to boost handing, and in the same direction at higher speeds to increase stability. It definitely inspired confidence: the A7 Sportback handled assuredly and responded well, although the combination of all the driver assistance systems did leave something of a disconnect between input and action, improved by playing around with the various drive modes.
The 55 TFSI engine had power in abundance, delivered smoothly and quietly in largely fuss-free fashion. In fact, it takes considerable effort, and use of the manual gears, in order to produce a stirring noise. But despite the appearance of the word 'sport' in its title, the engine response matched the handling dynamic: it's best enjoyed as a relaxed (yet fiercely fast and capable cruiser) than a truly evocative responsive sports car.
A slight disappointment is that that cruising pleasure is tempered somewhat by a rougher than expected ride, even with the drive mode set to comfort. The 50 TDI version we also tested – which ran on smaller 20in tyres – was somewhat smoother, if still not as refined as you might expect. That said, as with the diesel version, this is a car that you could happily spend hours in covering large distances.
Should I buy one?
The vast bulk of first-generation A7 buyers opted for the diesel version, and that's likely to be the same with this new version. And while it was occasionally rougher than this petrol model at lower speeds, we slightly preferred the extra character and torque response of the 50 TDI we also tested.
If you have a preference for petrol, though, this is still an eminently capable car, comfortable to spend time in and drive. The remaining question, of course, is how it will compare to the forthcoming Mercedes-Benz CLS – for the answer to that, we'll have to wait for now.
Audi A7 Sportback 55 TFSI S line S tronic
Where South Africa On sale April 2018 Price £58,040 Engine 6cyls, 2995cc, turbocharged petrol, 48V MHEV Power 335bhp at 5000-6400rpm Torque 369lb ft at 1370-4500rpm Gearbox 7-speed automatic Kerb weight 1815kg Top speed 155mph 0-62mph 5.3sec Fuel economy 39.8mpg CO2 161g/km, 31% Rivals Mercedes-Benz CLS, BMW 6 Series Gran Turismo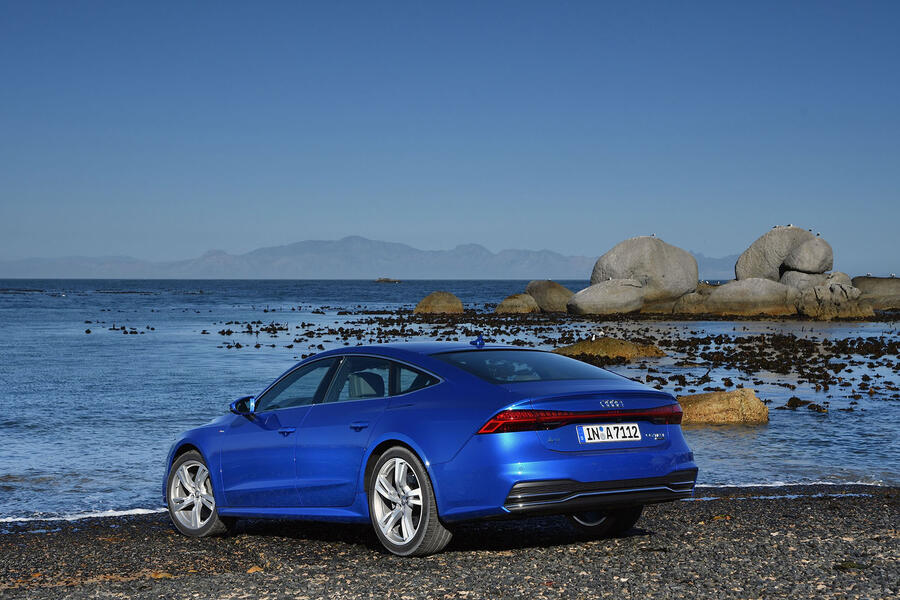 Tweet Widget
Facebook Like
Google Plus One
Nguồn: www.autocar.co.uk