Tweet Widget
Facebook Like
Google Plus One
Our Verdict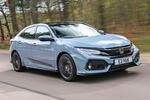 Honda's 10th-generation Civic hatchback goes global — but is that good news?
First Drive Honda Civic 1.6i DTEC EX 2018 UK review

The latest generation Civic gains a diesel engine – which promises warm hatch fun and big gains in fuel economy. Can this Ford Focus rival deliver?

First Drive Honda Civic long-term review: living with a 1.0 VTEC SR

The tenth generation Honda Civic ditches its space race styling but is that enough to help it make a contender in a congested segment?
What is it?
Welcome to the oil-burning version of the 10th-generation Honda Civic. This new 1.6-litre, four-cylinder diesel joins the petrol-powered 1.0-litre and 1.5-litre variants that were launched last year, as well as the barnstorming Type R - all of which we're already particularly fond of.
The new diesel, which we've been driving on the shockingly battered streets of Rome, gains the same extensive updates that were introduced on the petrol models. Honda pulled out all the stops when it came to designing this car, dedicating a third of its research and development resources to the project. In fact, it's the product of the single largest development programme in the company's history.
There's a new platform, a revised suspension set-up that comprises MacPherson struts up front and a multi-link rear axle at the back, as well as a stiffened unibody and a lowered centre of gravity. All of these changes, Honda says, have been implemented to lend the Civic a more agile and engaging driving experience.
The 1.6-litre i-DTEC engine has also been revised. New forged steel pistons replace the aluminium jobbies found in earlier incarnations of this power plant and help to reduce friction and cooling loss within the block. A new turbocharger offers reduced lag as well as improved low- to mid-range pull.
Its 221lb ft of torque is available from 2000rpm, while peak power - all 118bhp of it - is reached at 4000rpm. The key stats for this car, however, are its economy figures. Honda claims that the Civic diesel will manage 80.1mpg on the combined cycle, with CO2 emissions from 93g/km.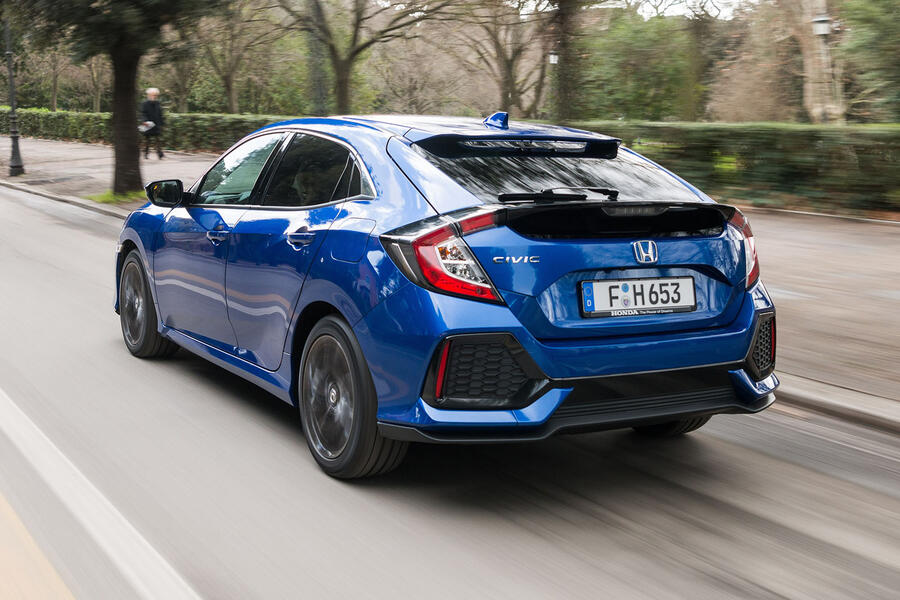 What's it like?
We'd be stretching the truth ever so slightly if we said the Civic diesel was an exciting car to drive. But then again, an oil-burning family hatchback is never going to be the sort of car to set your heart racing.
That's not to say the Civic isn't an impressively capable car, mind. While it's not particularly quick - it dispatches the 0-62mph dash in a leisurely 10.5 seconds - where it scores big points is in the ride department.
You get the sense that there's very little that will upset the Civic. Its suspension copes well over rough and uneven surfaces - even the mottled Roman roads of our test route didn't make it flinch - absorbing jolts with little fuss, and never managing to feel anything other than planted and stable. Its adaptive dampers limit vertical travel well, and even set to their sportiest setting, the Civic feels calm and collected. Quite why a diesel Civic needs adaptive dampers is another question entirely.
It steers well, too, even if there is little in the way of feedback from the electromechanically assisted variable-ratio rack-and-pinion steering - although that's the norm these days, isn't it? It doesn't roll a particularly noticeable amount through the bends, and sudden changes in direction don't upset the Civic's balance too significantly either. We'd like to say that it grips well, too, but the roads of our Italian test route didn't provide much in the way of sharp bends.
It did have an abundance of faster, gentler stretches of Tarmac, though, which revealed the Civic's excellent refinement at cruising speeds. The 1.6-litre i-DTEC is quiet, and happily sits at motorway speeds. It does lack some in-gear shove, though, but this is solved by working the six-speed manual gearbox, which is precise in its action and has a pleasingly short throw.
The interior isn't the last word in luxury, with abundant plastics throughout, but you can't fault it as far as ergonomics are concerned. The Honda Connect infotainment system is a fly in the otherwise perfectly acceptable ointment, owing to the fact that it's not particularly responsive, and lags behind the competition as far as its graphics are concerned. Thankfully, Apple CarPlay and Android Auto go some way to remedying this.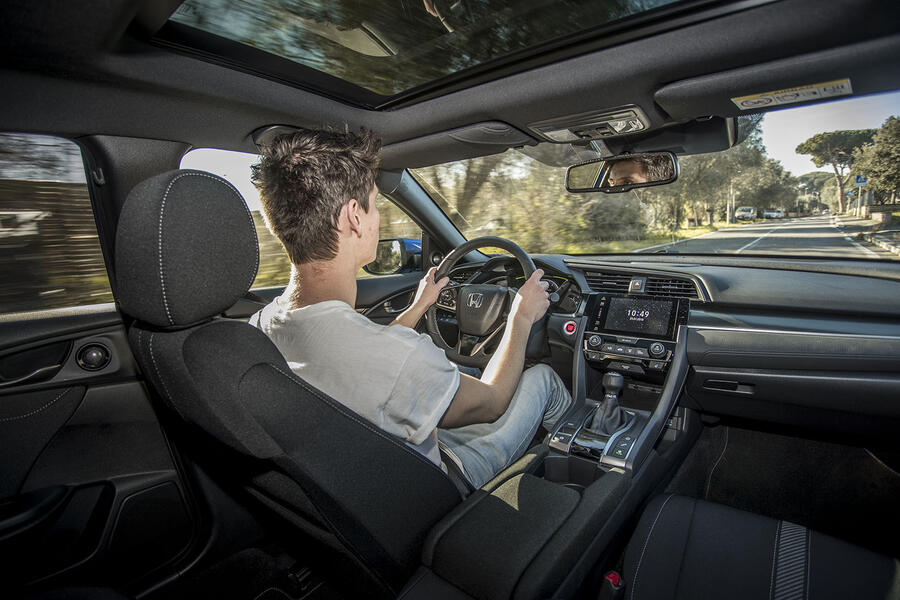 Should I buy one?
Diesel isn't exactly flavour of the month at present, owing to increased government taxation and an apparent policy of misinformation surrounding its environmental credentials. Still, Honda expects diesel models to account for 31% of all UK Civic sales, so it wouldn't seem that all hope is lost.
There's a lot to like about the Civic diesel, too. It's comfortable, drives well and is a refined long-distance tourer. Our £24,925 top-spec EX model came with plenty of standard kit and, next to similarly equipped rivals such as the Ford Focus and Seat Leon, is expected to hold significantly more of its value.
However, the case is the same for its petrol-powered rangemates, which we'd opt for in a heartbeat. Not only are they cheaper to buy, they perform better, yet still won't leave you wincing at the fuel pump.
Honda Civic 1.6 i-DTEC
Location Rome On sale now Price £24,925 Engine 4 cyls, 1,597cc, turbocharged, diesel Power 118bhp at 4000rpm Torque 221lb ft at 2000rpm Gearbox 6-spd manual Kerb weight 1301kg 0-62mph 10.5sec Top speed 125mph Economy 80.7mpg (combined) CO2 93g/km, 20% Rivals Seat Leon 1.6 TDI SE Technology, Ford Focus 1.5 TDCi 120 Titanium X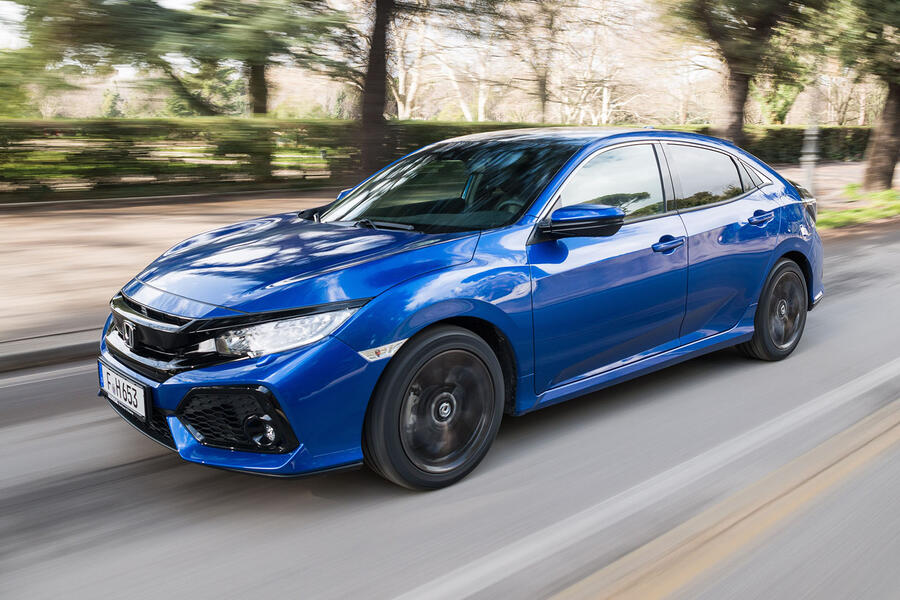 Tweet Widget
Facebook Like
Google Plus One
Nguồn: www.autocar.co.uk