Our Verdict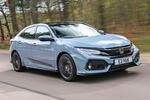 Honda's 10th-generation Civic hatchback goes global — but is that good news?
First Drive Honda Civic 1.6i DTEC EX 2018 UK review

The latest generation Civic gains a diesel engine – which promises warm hatch fun and big gains in fuel economy. Can this Ford Focus rival deliver?

First Drive Honda Civic long-term review: living with a 1.0 VTEC SR

The tenth generation Honda Civic ditches its space race styling but is that enough to help it make a contender in a congested segment?
Why we ran it: Competition among family hatches is fierce. So we had seven months to find out if the new Honda Civic is up to the task
Month 1 - Month 2 - Month 3 - Month 4 - Month 5 - Month 6 - Month 7 - Specs Life with a Honda Civic: Month 7
The Civic departs; it"ll be missed – 7 February 2018
According to an old motoring adage, if you have to measure an improvement, you haven't made one. So there was no need, when we took delivery of our Civic, to reach for the slide rules and tape measures: one drive was enough to tell us that this all-new car was a vast improvement on the model it replaced in nearly every area.
But what people seemed to be far more interested in initially was the new car's raffish styling. At first, I thought it so ugly I was afraid to go near it, especially at night, but as time went by I grew to love it. Our red car with black alloys looked great, and I was often asked if our humble 127bhp 1.0 triple in mid-spec SR trim was the Type R version. Young people seemed to like it, which should please Honda.
Nguồn: www.autocar.co.uk