Tweet Widget
Facebook Like
Google Plus One
We tested a pre-production version of the Kia Ceed
The Ceed received a new platform and new engines - and the apostrophe in the name is gone too
The Ceed is designed to rival the Ford Focus and Vauxhall Astra
A range of petrol and diesel engines will be offered, ranging from a 1.0 triple to a pair of 1.6 diesels
The Ceed is good, honest and surprisingly fun to drive
The petrol is a dynamic peach - it"s seriously good to drive
The cabin has been shifted backwards to create more room up front
Rear leg room appears to have shrunk from the old Ceed
Kia says the car will have the second biggest boot in the class
The Kia Ceed interior
The Ceed"s interior makes it feel a little more premium
Close
Our Verdict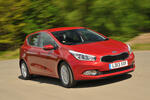 The Kia Cee'd is more than good enough to harry the opposition
First Drive Kia Ceed 1.4 TGDI 2018 prototype review

The new Kia Ceed gets a new platform, new engines and - shock horror - loses its apostrophe in a complete redesign. Can it compete with the Ford Focus?

First Drive 2015 Kia Cee'd 1.6 CRDi 136 DCT 4 Tech 5dr review

Kia facelifts its Cee'd and drops its six-speed torque converter in favour of a new seven-speed dual-clutch automatic gearbox in the process.
What is it?
Hold the front page, the new Kia Ceed isn't just built on a new platform: they've gone and got rid of the apostrophe too. The new Ceed, then, replaces the cee'd, and even gets an uppercase first letter in the process. How conventional. 
Seriously, how conventional? Pretty conventional. This is the replacement for the European-designed, engineered and built Kia cee'd that has been in service since 2012, and it picks up similar themes. This steel monocoque, front-drive, new 'K2' platform contender sits in what Kia calls the 'C1' segment, alongside the Ford Focus, Vauxhall Astra, and other non-premium hatchbacks. This one's a five-door hatch. There might be a more premium Ceed variant along later.
It's on the money in terms of size, then, at 4.31m long, the same as before, and with the same 2650mm wheelbase, although everything in the new car's cabin has been, they say, shifted backwards by 68mm. 
What that means, if I understand it right, is that anything cabin-related now happens a bit further rearwards than before: they've moved the driver's hip-point back and down a bit and then redesigned around that, with a requisite shorter front and longer rear overhang. 
That all helps crash protection, apparently, and visibility around the A-pillars too, though those are set slightly further back than before, in an effort to make the bonnet meld less discreetly into the glass area, so it's all more striking. 
It kinda works, too, not that you can tell too much from these pictures of it in disguise, but it looks a little more bold, a little more premium, a little more Peugeot 308 than before. While the car has not been revealed yet, we"ve had a drive in a pre-production version to get a first taste.
What's it like?
The Ceed now has more room in the pleasingly-finished-enough front cabin, which uses respectable materials, albeit ones that don't look quite as solid as a VW Golf's, but probably are, underneath it all. It also has the second-biggest boot in the class, behind the Peugeot 308, because they don't count the Skoda Octavia as being in that class. Some of all that room has had to come from somewhere, I suppose, and my knees suggest it's from rear legroom, which is no better than fine.
In the UK, we'll get 1.0-litre turbo triple, 1.4 naturally-aspirated, a new 1.4 turbo (replacing a naturally-aspirated 1.6) and a powerful 1.6 turbo petrol engine, and two 1.6 diesels, when the Ceed goes on sale in late summer 2018. I've tried the 138bhp 1.4 turbo petrol driving through a six-speed manual, and a 134bhp diesel with a 7spd dual-clutch automatic.
The Ceed gets MacPherson struts at the front and an independent multi-link rear suspension setup, with 16in or 17in alloys; the latter with Michelin Pilot Sport 4 tyres, which Kia's engineers like a lot for their grip and ride compromise.
The Ceed isn't quite finished, hence the disguise, so we'll overlook some creaks. Easily, in fact, partly because they're not that bad but mostly because the petrol car is dynamically really appealing. 
The old cee'd didn't drive badly, but this one's seriously good. The body-in-white is both stiffer and 25kg lighter, and although extra kit has put most of that weight back on, having rigidity where it matters surely helps, while the steering ratio is quicker than a VW Golf's. 
Kia wants its cars to feel dynamic, and the Ceed does. It's responsive – more so than a Golf or Astra, less than a Focus – has sound control of its body, but rides well and rolls a little too. It's good, honest, surprising fun, while the engine's quiet and gearbox light and easy.
All of the above is less true of the diesel, which makes a fair degree of top end noise, and much flatter of foot while not noticeably riding any better. There are still tweaks to do so I suspect they'll sort the noise, though I doubt too many of the dynamics, before it goes on sale late this summer. The lighter engine and gearbox combo, then, is the way to go.
Should I buy one?
You might well. The Ceed's nice enough inside, generally well-equipped, prices are always good - the range should eventually start at around £16,000 and this one's around £20k - and the warranty is long. 
Private buyers are keen on Ceeds for all of the above reasons. What's good, though, is that if you get the right version –and I don't say this lightly – then I think it'll be one of the nicest-driving cars in the class too.
Kia Ceed 1.4 TGDI 5dr
Where Barcelona; On sale September; Price £20,000 (est), with a range starting at £15,500 (best); Engine 4cyls in line, 1396cc, turbocharged petrol; Power 138bhp; Torque 178lb ft at 1500-3500rpm; Gearbox 6-spd manual; Kerb weight 1350kg (est); 0-60mph 9.0sec (est); Top speed 125mph (est); Economy tbc; CO2/tax band tbc Rivals Ford Focus, Peugeot 308
Tweet Widget
Facebook Like
Google Plus One
Nguồn: www.autocar.co.uk