Tweet Widget
Facebook Like
Google Plus One
The new Mitsubishi Eclipse Cross SUV
This is almost certainly the final car to be designed, engineered and assembled in-house purely by Mitsubishi
Inside there's a dash-mounted touchscreen – compatible with Android Auto and Apple CarPlay – that can also be controlled with a Lexus-esque touchpad
Up front there's generous head and legroom
The rear bench can slide fore or aft up to 200mm, giving good space for back-seat passengers
For matters of practicality, the price you pay for the sloping design is that rear boot space takes a hit, particularly in comparison to the Seat Ateca
Dash-mounted touchscreen doesn"t feature sat nav
Part of Mitsubishi's attack plan has been to deploy the sharply detailed design elements of its motorshow concepts
Special logo signifies this first edition model
Using MacPherson struts at the front with a multi-link rear, the Eclipse Cross rides well on most British roads but certainly isn't immune to the effects ragged surfaces
Petrol engine is surprisingly smooth, inoffensive unit with good throttle response, usefully developing peak torque between 1800 and 4500rpm with little more than a buoyant thrum
Close
Our Verdict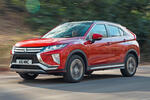 Does this striking, high-value entrant leave the compact crossover set in its shade?
First Drive Mitsubishi Eclipse Cross 4WD 2018 UK review

Mitsubishi's unexpectedly refined family cruiser doesn't conform to the class typecast, but is that ultimately to its detriment?
What is it?
What you're looking at is almost certainly the final car to be designed, engineered and assembled in-house by Mitsubishi. But before you panic, know that the company behind a dozen Dakar victories is not folding. Rather, it was recently subsumed into the Renault-Nissan alliance, so we can expect platform and powertrain sharing galore from now on. 
The Eclipse Cross is significant for another reason. Slotting into the void between the capable but forgettable ASX crossover and the full-sized Outlander, whose architecture it shares, it finally plugs a potentially very lucrative mid-sized-crossover hole in its maker's line-up. Prices start aggressively low, at a shade over £21,000 (rising to just under £28,000) and that's important because a four-and-a-half-metre footprint and moderately raised ride height mean this car's rivals are numerous. 
Part of Mitsubishi's attack plan has been to deploy the sharply detailed design elements of its motorshow concepts. The chromed tusks of the front bumper are a bit chintzy but the Eclipse Cross is handsome in the metal, and when the designers say they wanted the car to seem as though it had been carved from a single block of aluminium, you'll know what they meant. The rear glass is also split in the manner of a Toyota Prius, providing not only the opportunity for Mitsubishi to install a light bar across its width, but also good visibility.
Front-wheel drive and a six-speed manual gearbox underpin the range, though most will opt for four-wheel drive with the automatic gearbox. Those four-wheel-drive models use Mitsubishi's Super All-Wheel-Control setup, which defaults to a significantly front-biased torque split but can go near enough to 50:50 if conditions demand it. Along with a new Shogun Sport due later this year, it reinforces Mitsubishi's position as a specialist in more utilitarian offerings.
Inside there's a dash-mounted touchscreen – compatible with Android Auto and Apple CarPlay – that can also be controlled with a Lexus-esque touchpad. It's worth knowning that Mitsubishi doesn't offer any form of satellite navigation, so you'll be relying on those smartphone connections to use apps such as Google Maps. 
These cars nevertheless come decently equipped, with the entry-level Eclipse Cross '2' (we've no idea what happened to '1') featuring a rear-view camera, automatic high beams, DAB radio, LED daytime running lights, climate control, privacy glass and colour-coded bits and pieces. Upgrading to '3' costs around £1300 and adds 18in alloys, heated front seats, parking sensors and keyless entry, while '4' asks an additional £2400 of you and brings leather trim, a panoramic roof, LED headlamps, and a sound system from American firm Rockford Fosgate. By this point the Eclipse Cross is nudging £28,000.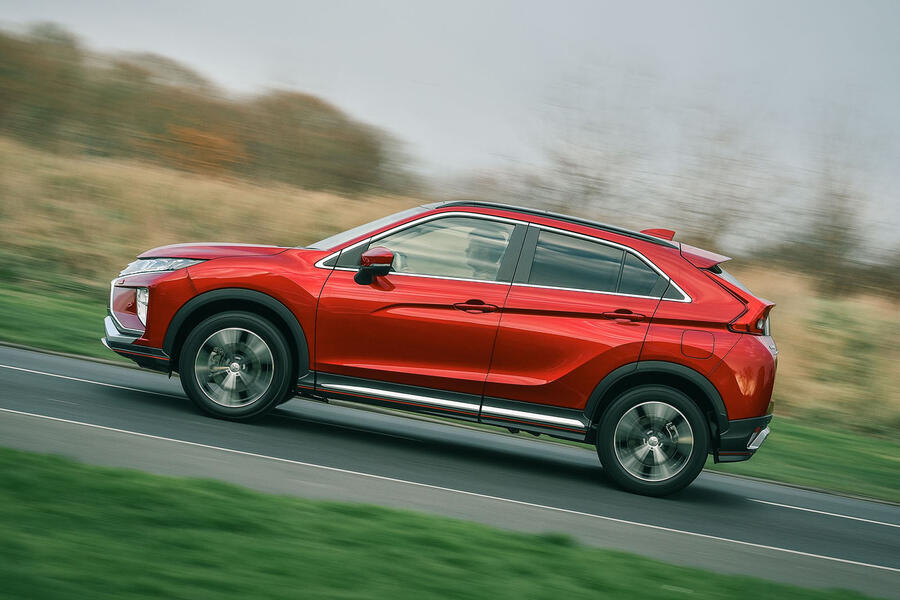 What's it like?
We'd understand if you missed it, but Mitsubishi's designers have split the dashboard in half, with a silver spar that runs across its width. Anything above it is informational, anything below it operational. At seven inches in diameter, the touchscreen is small but neat, and ergonomics are generally sound, even if reflector sight of the heads-up display is so substantial it wouldn't look out of place in a Eurofighter. Materials quality is also better than we"re used to from Mitsubishi.
While a diesel is likely to arrive in the autumn, for now the Eclipse Cross comes with but one engine option in the form of a relatively powerful 1.5-litre petrol. Mitsubishi's intention is to welcome with open arms those who have turned their backs on diesel for reasons largely relating to ethics and, just maybe, residual values.
It's a surprisingly smooth, inoffensive unit with good throttle response, usefully developing peak torque between 1800 and 4500rpm with little more than a buoyant thrum. Soulful it is not, but neither is it ever grating, even when thrashed. With the 160bhp it offers up, the Eclipse Cross never feels particularly quick but likewise never seems to want for more go. In short, it suits the car well.
The gearbox is a CVT affair calibrated to offer eight fantasy gears, though it's far less slushy than you might imagine – just avoid using the paddles, which are entirely unconvincing. Like all transmissions of this ilk, it works best with sympathetic throttle inputs and rewards a more fluent driving style, though it's sharp enough for hasty overtakes.
Claimed fuel economy is 40.4mpg, with carbon dioxide emissions of 159g/km. Neither figure is particularly impressive, and poorer than comparative diesel alternatives. Those engines won't fade into the background quite so seamlessly at a cruise, however, and wind noise is luxuriously faint, despite the Dumbo-proportioned wing mirrors. Indeed, if the Eclipse Cross excels itself in one particular area, it's motorway refinement.
Provided they"re smooth, that is. Using MacPherson struts at the front with a multi-link rear, the Eclipse Cross rides well on most British roads but certainly isn't immune to the effects ragged surfaces. If anything, we'd like a bit more vertical pliancy with better roll control, but it's marginal, and most of the time there's scant reason to complain. Certainly, a questionable secondary ride is something that seems to afflict most cars in this class.
And so the four-wheel drive system, which can be set for snow and gravel as well as tarmac. Traction feels all but unbreakable in the Eclipse Cross, though in this case the Active Yaw Control is brake-operated, unlike the differential-based hardware employed by Lancer Evo models of, um, yore. It's also inclined to stability rather than dynamism, and while there's good grip and quick steering on offer, this latest Mitsubishi does little to genuinely entertain. 
For matters of practicality, the price you pay for the sloping design is that rear boot space takes a hit, particularly in comparison to the Seat Ateca. Up front there's generous head and legroom and, given that the rear bench can slide fore or aft up to 200mm, the same is true for back-seat passengers. Whether that's an acceptable compromise is a matter of where your priorities lie.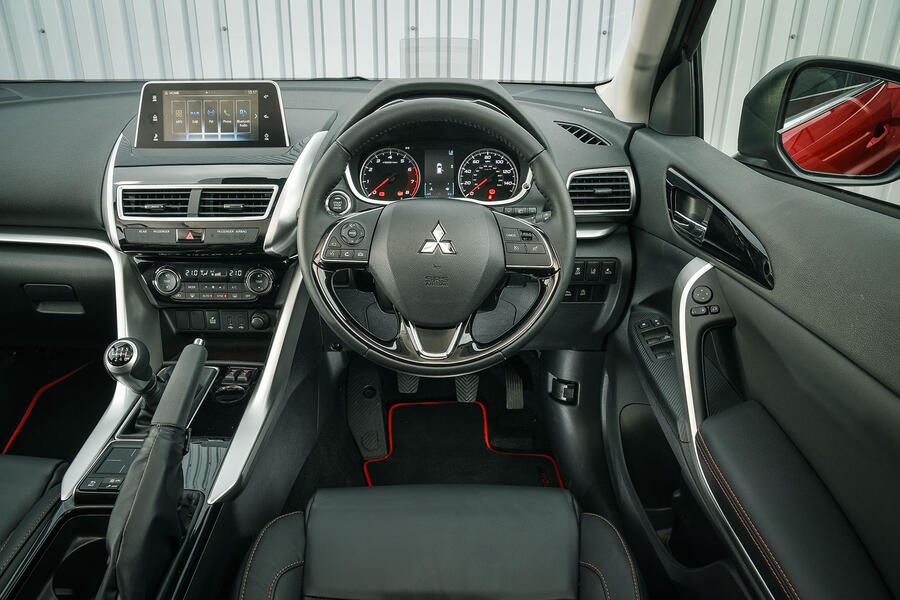 Should I buy one?
Ultimately there's little to dissuade you from at the very least trying an Eclipse Cross if you"re looking for a mid-size crossover. It's liberally equipped – including an array of safety technology – and more cultured than you'd credit for a manufacturer better known for its L200 pickup truck. Underwhelming fuel economy and truncated boot space (thank the sleek silhouette) are the caveats, however, so frequent long journeys with passengers and luggage would better suit more capacious diesel rivals.  
Mitsubishi Eclipse Cross "3" 4WD Auto
Where Berkshire On sale Now Price 25,530 Engine 4cyls, 1499cc, petrol, turbo Power 160bhp at 5500rpm Torque 184lb ft at 41800-4500rpm Gearbox CVT Kerb weight 1550kg Top speed 124mph 0-62mph 9.8sec Fuel economy 40.4 CO2 159g/km Rivals Nissan Qashqai, Toyota C-HR, Seat Ateca, Peugeot 3008, Kia Sportage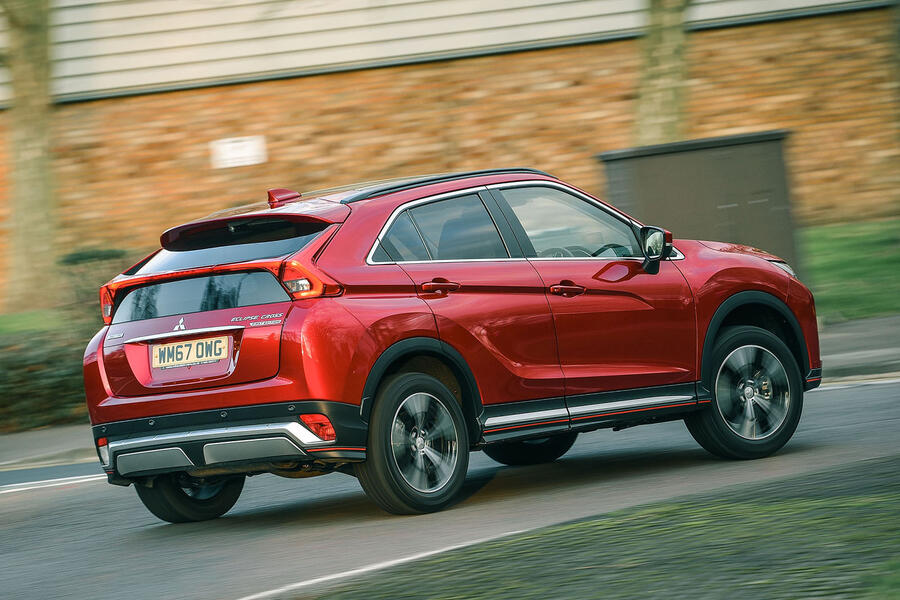 Tweet Widget
Facebook Like
Google Plus One
Nguồn: www.autocar.co.uk