Tweet Widget
Facebook Like
Google Plus One
The Volkswagen Up GTI
The Up GTI is a similar size and has similar power to the original Golf GTI
The city car packs a 113bhp turbocharged 1.0-litre engine
It"s great fun to drive on twisting Welsh roads
The Up GTI has bags of character
There"s plenty of front end grip and body roll isn"t bad for a high-sided car
The interior features VW"s classic tartan GTI trim
The interior of the Up GTI
Up GTI detail
Up GTI detail
Up GTI detail
Up GTI detail
Up GTI engine
The Volkswagen Up GTI
Close
Our Verdict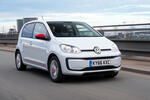 The Volkswagen Up city car isn't revolutionary, it's just quantifiably better than the opposition
First Drive Volkswagen Up GTI UK 2018 review

Volkswagen's city car gets a GTI makeover. Does that make it a compact hot hatch worthy of the badge?

First Drive 2016 Volkswagen Up 1.0 TSI High Up review

A new turbocharged three-pot injects some fun into VW's slick Up city car and makes it a more rounded package
What is it?
So, here it is then. The hotter, go-faster version of Volkswagen's cheap and cheerful Up, driven for the first time in the UK. As you're probably well aware by now, VW has been drawing parallels between this new Up GTI and the original Golf GTI Mk1 from 1976 since it was first confirmed back in 2016. That's because the new performance Up roughly matches that most iconic of hot hatchbacks on performance, size and power.
But we won't get bogged down with drawing similarities between the two, namely because I haven't driven the original (it is, after all, 17 years my senior). And although the two might be relatively similar so far as their on-paper credentials are concerned – the Up's turbocharged 1.0-litre three-pot develops 113bhp versus the Golf's 109bhp four-cylinder – the Up is a modern car, meaning it'll always trump the original on equipment, reliability and safety grounds.
They're different cars from different eras, and we'll have to wait 40 years to find out if the Up GTI will enjoy the same hero status as its grandfather – or even is as well-regarded as the latest Golf GTI.
In turning a regular Up (one of the best city cars on the market) into a GTI version, Volkswagen has done more than drop a more powerful engine under the bonnet. Its suspension - MacPherson struts at the front and a torsion beam at the rear - has been heavily revised, while the car sits 15mm lower than its non-GTI sibling.
A six-speed manual (as opposed to the base Up's five-speed) drives the front wheels, and new petrol particulate filter is said to reduce particulate emissions by up to 95 per cent.Then there are the obligatory GTI aesthetic tweaks from the original Up, such as larger 17-inch alloys, front sports seats with 'Jacara Red' upholstery and plenty of GTI badging. It's a compelling little package, particularly when you note that you can have one on your driveway from £139 per month (at the time of writing) on PCP, or from £13,750 outright.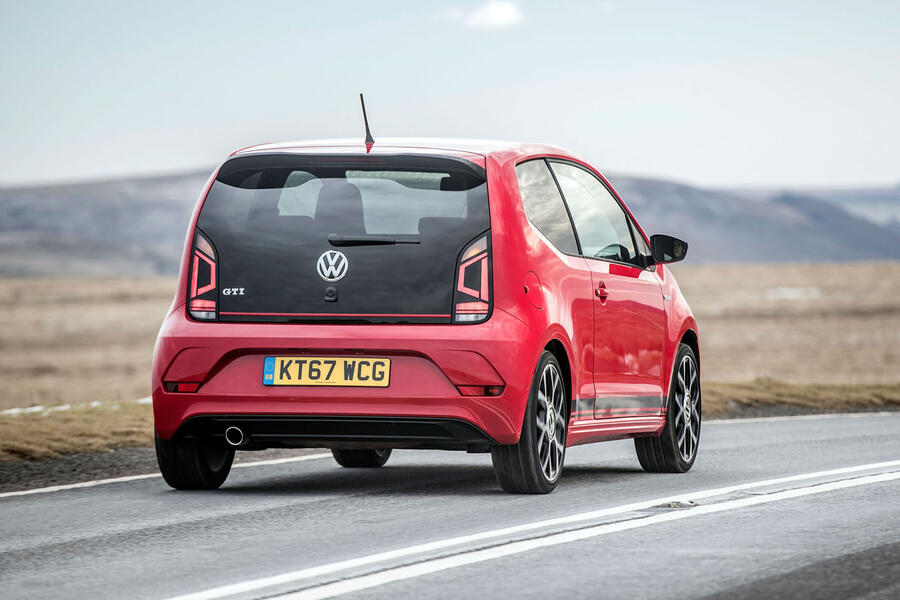 What's it like?
Our first taste of the Up GTI on British roads took place in Wales, starting in the town of Crickhowell before heading out into the wider Brecon Becons National Park. There are some phenomenal roads up here, with tight hairpins, fast flowing bends, the occasional straight and constant changes in elevation – all on road surfaces that aren't exactly stellar. Basically, it's proper hot hatchback territory.
Unsurprisingly, the Up GTI was a bit of a riot in this environment. It's electromechanical steering doesn't provide the last word in feel, but it"s well weighted, responsive and pretty confidence-inspiring, meaning you can throw the Up into just about any bend without fear of greatly upsetting its natural balance.
There's plenty of front-end grip, although it will wash out to understeer through a turn if you're a bit of an idiot with your entry speed or the application of throttle mid-corner. And even when this does happen, you're never really going to be travelling so fast that this temporary loss of traction will be unmanageable.
The uprated suspension works a treat, too. Considering this is a relatively high-sided, narrow little car, body roll is contained and the ride is generally absorbent when travelling at speed. Those larger 17in alloys can make the odd rut feel a bit more pronounced, though.
With 147lb ft of torque on tap from 2000rpm the engine has a muscular feel to it and will get the Up GTI from 0-62mph in 8.8 seconds. That's not enough to mean that a prod of the throttle will have you travelling at break-neck speeds, but that's all part of its charm.
The power is accessible, and coupled with the Up GTI's diminutive size it does a good job of providing the illusion of speed, despite the fact that you'll never really be in any danger of grossly breaching the national speed limit. The soundtrack isn't bad, either. Sure, there's a degree of synthetic aural trickery going on here, but it fits well with the Up's "small but mighty" character. 
So, the Up GTI is a cracking little car out on a interesting road, but how does it perform elsewhere? On the motorway it feels like any other Volkswagen: comfortable, settled and largely refined, although there is a bit of wind noise at higher speeds. Plenty of in-gear shove also means overtaking isn't an arduous, drawn-out procedure. It's largely ergonomically sound, too, although the steering rack doesn't adjust for reach.
Around town – an important point, given the Up GTI's city car roots – it feels like any other Up, but with even more scope for darting in and out of traffic thanks to the additional power. The only caveat here is that the sports suspension does mean the ride is a bit firmer at lower speeds, but considering the breadth of its abilities that's not going to be a deal breaker.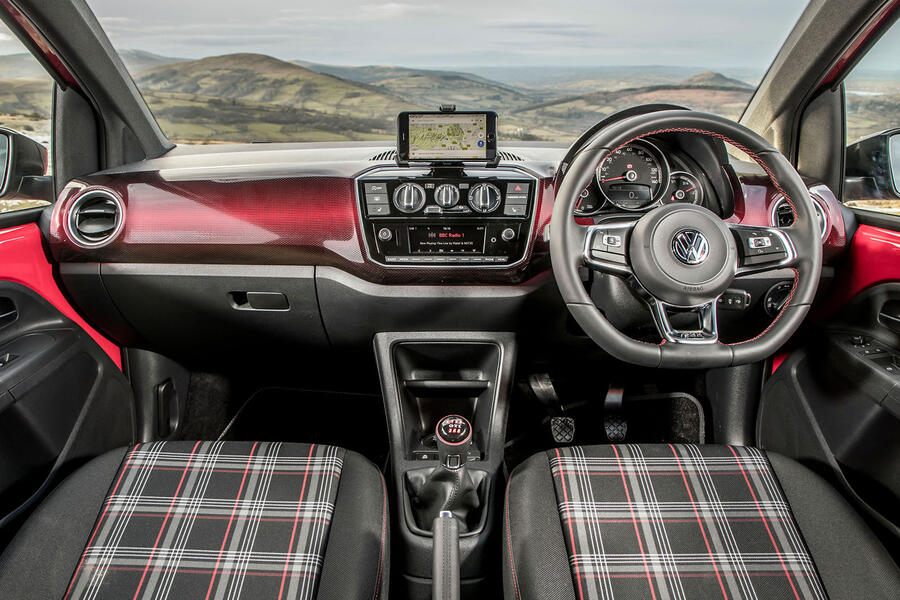 Should I buy one?
For the money, there's not much else out there that compares with the Up GTI. A Renault Twingo GT is likeable enough, but isn't quite as engaging or exciting as the Volkswagen, and the Brabus ForFour Xclusive is nearly £7,000 more expensive.
I'm not in a position to say quite how this new Up GTI compares with the original Golf GTI, but next to the current Mk7 model, I know which one I would have. The Golf GTI of today is a supremely competent hot hatchback, but it's overtly serious character can leave you feeling a bit cold. The Up GTI, on the other hand, does not. It's personality may be far less mature, but it's all the better for it.
Volkswagen Up GTI 1.0 TSI 115 3dr
Where Wales On sale Now Price £13,750 Engine 3 cyls, 999cc, turbocharged, petrol Power 113bhp at 5000rpm Torque 147lb ft at 2000rpm Gearbox 6-spd manual Kerb weight 1070kg Top speed 122mph 0-62mph 8.8sec Fuel economy 58.9mpg CO2, tax band 110g/km, 24% Rivals Renault Twingo GT, Brabus ForFour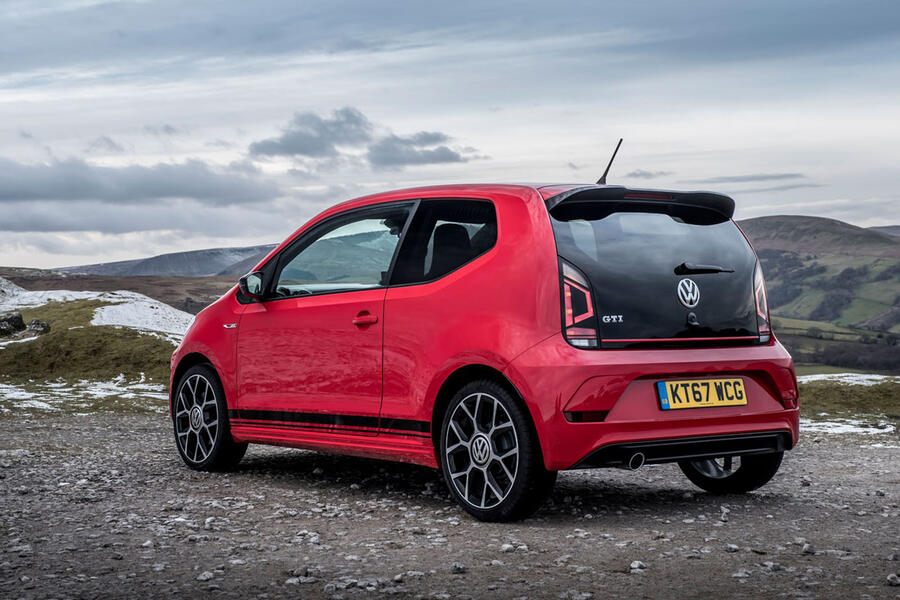 Tweet Widget
Facebook Like
Google Plus One
Nguồn: www.autocar.co.uk